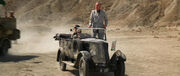 This Renault 6CV Torpédo was a 1926 French convertible and staff car given to Walter Donovan in 1938 by the Sultan of Hatay, as a replacement for his Rolls-Royce Phantom II. The car was driven by Captain Helmut and performed admirably in the Nazis' desert trek to the Canyon of the Crescent Moon.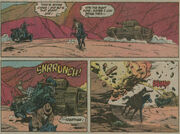 In the comic book adaptation of Indiana Jones and the Last Crusade, the Torpédo, sans Donovan and containing only two Nazi soldiers, replaces the Volkswagen Kübelwagen as the car that collides with, and is run over by, Colonel Vogel's tank.
Community content is available under
CC-BY-SA
unless otherwise noted.