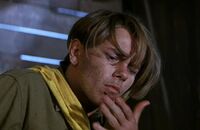 "The subject of this article was cancelled."
This article covers a film, book, comic or game that was cancelled or replaced by another product. Cancelled material is usually not
canon
; however, aspects of such material sometimes find their way into later products and thus become canon. You have been warned.
A Walk Through Early Twentieth Century History with Indiana Jones was a proposed multimedia project centered around Indiana Jones that grew out of the George Lucas Educational Foundation's efforts to help students better engage with lessons.
However, founder and filmmaker George Lucas saw the potential of the idea for television and redeveloped the core idea into what became The Young Indiana Jones Chronicles (1992 - 1996).
Sources
[
]
See also
[
]