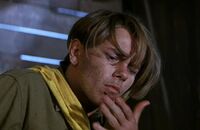 "The subject of this article was cancelled."
This article covers a film, book, comic or game that was cancelled or replaced by another product. Cancelled material is usually not
canon
; however, aspects of such material sometimes find their way into later products and thus become canon. You have been warned.
Ahlhorn, Late February 1917 was an unproduced episode of The Young Indiana Jones Chronicles intended to have been part of the third season of the series. The subject of the episode would have been ethics.
In this episode, Indiana Jones is sent on a spy mission to Germany in order to persuade Anthony Fokker to work with the Allies instead of designing planes for Germany. Indy would take off in an airplane flown by Charles Nungesser but they are forced to make a landing in the occupied Belgium, where they are assisted in refueling and fixing their plane by the White Lady spy organization. They take off once more, and Indy is parachuted into Germany. He then makes his way on a train to Ahlhorn and overhears Fokker discussing plans for the Poll Giant Triplane, the triplane that Villehad Forssman has designed and could cross the Atlantic Ocean. Jones is ultimately unsuccessful in persuading Fokker to assist the Allies.
Although the TV show was canceled in its second season, material for the episode had been filmed and was broadcast in an edited form as Young Indiana Jones and the Attack of the Hawkmen, a TV movie later released on home video as part of The Complete Adventures of Indiana Jones VHS collection.
External links
[
]