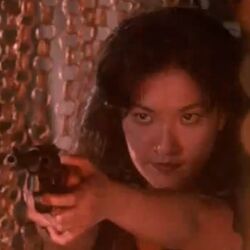 Alice Lau (劉雅麗, born April 24, 1967) is an actress and singer who played Jin Ming in Young Indiana Jones and the Treasure of the Peacock's Eye, the second of four TV movies made for The Family Channel based on The Young Indiana Jones Chronicles.
Lau's only other English-language film credits are China Rose, Uncommon Valour, and Blade in Hong Kong. Her Cantonese and Mandarin credits include the feature films Wǒ Hé Chūntiān Yǒu Gè Yuēhuì (我和春天有個約會, English: I Have a Date with Spring), Hǎi Gēn (海根, English: Sea Root), Chuàngyè Wánjiā (創業玩家, English: Funny Business), and Dà Xǐ Shì (大囍事, English: The Wedding Game), as well as the television series Qǔ Zhōng Qíng Wèiliǎo (曲終情未了, English: Forever Love Song) and Yǒng Tàn Shílù (勇探實錄, English: Law Enforcers).
Lau has also released multiple solo and collaborative albums, beginning with Xìmí Qíng Mí (戲迷情迷, English: Fans Love Fans) in 1995.
External links
Edit
Community content is available under
CC-BY-SA
unless otherwise noted.