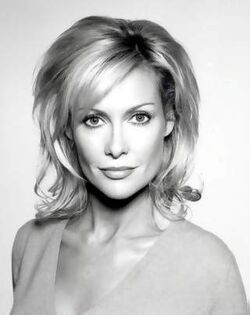 Alison Doody (born November 11, 1966) is an Irish actress and model. She is best known for playing a Bond girl in the James Bond movie A View to a Kill and as the seductive Elsa Schneider in Indiana Jones and the Last Crusade.
Biography
Edit
Doody was born to a well-off family in Dublin, Ireland. Her mother, Joan, was a beauty therapist, and her father, Patrick, worked in the property business and farmed. Doody attended Mount Anville Convent. She studied at the National College of Fine Arts, but left after a year.
She took up modeling, which turned into a career in commercial modeling as she stringently avoided glamour and nude work -- a clause which she extended to her acting career. She came to the attention of the casting director of a new James Bond film and accepted a part as Jenny Flex in 1985's A View to a Kill. She was listed as one of 12 "Promising New Actors of 1986" in John Willis' Screen World, Vol. 38. [1986].
Taking up acting professionally, she appeared in various television dramas in London and Dublin, before taking her most memorable role as Austrian Nazi-sympathiser and archaeologist Dr. Elsa Schneider in 1989's Indiana Jones and the Last Crusade. Her on-screen look was styled to that of Grace Kelly, in line with the wishes of director Steven Spielberg and producer George Lucas. The fact that she received the part of Elsa Schneider is surprising, seeing that she was 21 and Irish, while Elsa was 29 and Austrian.
Doody dated Gavin O'Reilly, CEO of the Independent News & Media of Ireland and son of media magnate Tony O'Reilly, since 1992; she planned to put her career on hold. The couple married on June 25, 1994 at the O'Reilly family residence Castlemartin, with 560 guests present. The couple made their home at Bartra House,[1] a 10,000 square foot home overlooking the sea in Dalkey, their neighbours included singer Enya and U2 guitarist The Edge. The marriage produced two daughters (Alanna in 1996; Lauren in 1999). She separated from O'Reilly in 2002 and later divorced him.[2]
Notes and references
Edit
External links
Edit