"The questions that Aristotle asked marked a turning point in the history of mankind. An intellectual awakening so beautiful its day has not yet come to a close."
Aristotle was an ancient Greek philosopher whose work has proven seminal to many concepts in western civilization.
Biography
[
]
Aristotle was born in the ancient Greek city of Stagira. In 367 BC, he traveled to Athens to study at the Academy under Plato.
Legacy
[
]
Professor Henry Jones taught his son about the principles of Aristotle's syllogisms at an Athenian theater in 1910
Appearances
[
]
Sources
[
]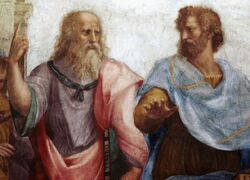 External links
[
]