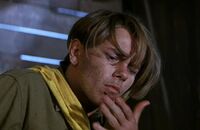 "The subject of this article was cancelled."
This article covers a film, book, comic or game that was cancelled or replaced by another product. Cancelled material is usually not
canon
; however, aspects of such material sometimes find their way into later products and thus become canon. You have been warned.
"Brazil, December 1921" was an unproduced episode of The Young Indiana Jones Chronicles, which would have been part of the third season of the series, a follow-up to the also unmade "Honduras, December 1920". The subject of the episode would have been anthropology.
In this episode, Indiana Jones would have another encounter with his arch-nemesis René Emile Belloq after having confronted him in Honduras the year prior. The two boys would have got involved in Colonel Charles Fawcett's quest to find the legendary 'Lost City of Z'. The trek would have started in Bahia, and they would have come across a group of American confederates living on a plantation there, witnessed rituals of the Candbomble religion, and encounter fierce indigenous natives in the interior. Belloq and Indy get captured but escape, and go their separate ways.
While the episode was never filmed, Indiana Jones encountered Charles Fawcett and the lost city in Rob MacGregor's 1991 novel Indiana Jones and the Seven Veils.
External links
[
]