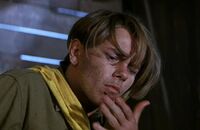 "The subject of this article was cancelled."
This article covers a film, book, comic or game that was cancelled or replaced by another product. Cancelled material is usually not
canon
; however, aspects of such material sometimes find their way into later products and thus become canon. You have been warned.
Buenos Aires, June 1919 was an unproduced episode in The Young Indiana Jones Chronicles intended to have been part of the third season of the series. The subject of the episode would have been dance, with the theme being "Attitude".
In the episode,while trying to board a ship to New York in France, Indiana Jones gets beaten up and robbed, and finds himself bound for Argentina instead. There he would meet Carlos Gardel, a young tango dancer who he tutors to afford passage back to the USA. Gardel is tutored in sbjects including English, arts and history, and in exchange, the boy teaches Indy the tango. However, Gardel is in love with a young woman whose father thinks he will never amount to anything, so Jones helps him to solve his problem and in turn, Gardel helps Indy pursue an Argentinian woman to whom he is attracted. Singer José Razzano was also intended to be featured in the episode.
External links
[
]