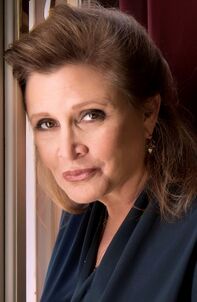 Carrie Fisher (October 21, 1956 – December 27, 2016) was an actress and author who wrote the script for "Paris, October 1916," an episode of The Young Indiana Jones Chronicles (later edited into Demons of Deception), based on a story by George Lucas. Fisher found the experience frustrating because Lucas reverted to his original romantic dialogue in the finished episode over her objections and teleplay:
He won. He let me win in the draft, then he went off and shot it and he changed it. I went crazy! I didn't want the shimmering arm, hair in the moonlight stuff. "You look so lovely. You are the magical rose of my..." It's in![1]
Fisher is best known for her portrayal of Leia Organa in the Star Wars franchise, from Episode IV A New Hope (in which she co-starred with Harrison Ford and Anthony Daniels) to Episode VIII The Last Jedi, though she appeared in numerous other (often comedic) films including The Blues Brothers (where she met and briefly became engaged to Dan Aykroyd), The 'Burbs, When Harry Met Sally..., and Jay and Silent Bob Strike Back.
After the publication of her first novel, Postcards from the Edge, Fisher became increasingly known and praised for both her prose and screenplay work. In addition to "Paris, October 1916" and the film adaptation of Postcards from the Edge, she also wrote the TV movie These Old Broads and worked as an uncredited script doctor on films such as Hook (directed by Steven Spielberg), Sister Act, Last Action Hero, and The Wedding Singer. Fisher authored three additional novels (Surrender the Pink, Delusions of Grandma, and The Best Awful There Is) before switching to memoirs, candidly discussing her personal life as well as her struggles with addiction and mental illness in Wishful Drinking, Shockaholic, and The Princess Diarist.
Fisher passed away on December 27, 2016.
Notes and references
[
]
↑ Roller, Pamela. "Life After Leia." Star Wars Insider 23 (Fall 1994), p. 41.
External links
[
]