This CO PILOT works for Lao Che. he and The PILOT fall off the plane. It is not knoun he survived his death.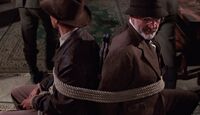 "This is intolerable!"
This article or section needs to be cleaned up to conform to a higher standard of article quality. Please follow the guidelines in the
Manual of Style
and complete this article to the highest level of quality before continuing on smaller articles. Remove this message when finished.