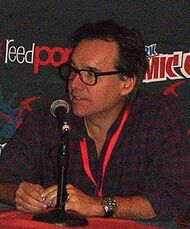 Chris Joseph Columbus (born September 10, 1958) is an American film director, producer and writer, best known for his family and sentimental films. He was born in Spangler, Pennsylvania.
In 1984, having recently written the Steven Spielberg-executive produced film Gremlins, Columbus was hired by George Lucas to write the screenplay for the third Indiana Jones movie based on a story written by Lucas focused on the Monkey King legend. Columbus signed his first contracted with Lucasfilm Ltd. on October 1 of that year and finished his first draft on May 3, 1985, entitled Indiana Jones and the Monkey King. Columbus was then given some notes by Deborah Fine on June 21 of that year about some background elements of the plot, leading Columbus to finish a second draft on August 6, 1985 entitled Indiana Jones and the Lost City of Sun Wu Kung. Unsatisfied with Columbus' drafts, Lucas ultimately hired Menno Meyjes to rewrite the film's story.[1]
Columbus is perhaps best known for writing, directing and/or producing films such as The Goonies (the story of which was written by Spielberg and starred Ke Huy Quan), Adventures in Babysitting, Home Alone and its sequel Home Alone 2: Lost in New York, Mrs. Doubtfire, the first three installments of the Harry Potter film series (the first of which coincidentally had the characters playing a giant chess game similar to the one featured on his Monkey King script while the second featured Last Crusade actor Julian Glover), Night at the Museum and Pixels.
Columbus is the co-founder of the film production companies 1492 Pictures and Maiden Voyage Pictures and the founder of ZAG Animation Studios.
Community content is available under
CC-BY-SA
unless otherwise noted.