"Dr. Jones, what you look at?"
This article would greatly benefit from the addition of one or more new images. Please
upload
a relevant image and place it here. Once finished, this notice may be removed.
Chrysomallos was a golden ram.
Biography
[
]
Created by the goddess Hecate to save the lives of children Phrixis and Helle, Chrysomallos was later sacrificed at Colchis and his Golden Fleece guarded by a giant serpent.
Many years later, in 1941, Hecate returned Chrysomallos to life and Indiana Jones was present to witness the ram float up into Hecate's open arms.
Behind the scenes
[
]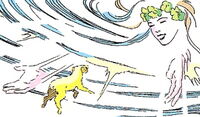 In Greek, Χρυσόμαλλος means "Golden-wooled" or "Golden-haired". The Greek name of the Golden Fleece is Χρυσόμαλλον Δέρας (Chrysomallon Deras).
Appearances
[
]
Sources
[
]
External links
[
]