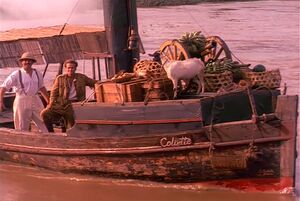 The Collette was a riverboat-for-hire owned and captained by Zachariah Sloat, on the Ogooué River in French Equatorial Africa, registered in Port-Gentil. A small open-air craft under a French flag, with room for about a dozen passengers, it was powered by a wood-fueled steam engine and had a tiller for steering.
In December 1916 or January 1917, Captain Henri Defense (Indiana Jones), as the de-facto leader of the Belgian expedition across the Congo hired the Collette to travel down the Ogooué from Franceville to Port-Gentil to pick up a wayward shipment of arms. Along the way, the ship came under attack by deserters or rebels, but was saved by Sergeant Barthelemy's training of the Ubangi orphan, who steered to boat to safety after Barthelemy had been shot. By the time the boat reached Port-Gentil, several of the passengers aboard had died from disease, including Major Boucher and Lieutenant Arnaud.
At Port-Gentil, the French forces under Colonel Pernod loaded up the Belgian machine guns and mortars for the trip back to German East Africa. Against Sloat's wishes, Defense rigged the boat with dynamite as a contingency plan to prevent the boat and its cargo from falling into enemy hands. However, on the return voyage upriver, the entire party succumbed to tropical diseases. Joseph, an assistant to Dr. Schweitzer, boarded the Collette, overtook the boat, prevented Defense from blowing it up, and steered it to Schweitzer's hospital at Lambaréné. When Defense partially recovered, he returned to the boat to guard it from the German doctor until he realized that Schweitzer was no enemy.
While his men and Mr. Sloat convalesced at Lambaréné, Jones used the boat to ferry Schweitzer to a Pahouin village upriver where he had been summoned to tend to the sickness of the chief's son. While on the Collette for the house call, Schweitzer told Jones of his philosophy of reverence for life. This changed Jones view on life and the war. On the return trip, the boat was loaded with foodstuffs and livestock as payment for the successful medical treatment. However, when the Collette returned at night at Lambaréné, Captain Rostand had arrived to take Schweitzer and his wife into custody as German nationals for deportation from French territory. Jones, along with Remy Baudouin, presumably took the Collette and their arms shipment back to Port-Gentil to protest the arrest of the Schweitzers.
Appearances
[
]