Cuzco is a town in Peru. There is an abundance of indigenous people there. It's main attraction is Machu Picchu, which lies near the city.
Sources: Having traveled to Peru; Aztecs, Mayans, and Incas, the DK guide; Peru: The DK travelers Guide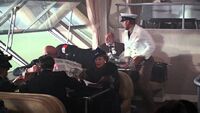 "No ticket."
This article does not have a list of
sources
or
appearances
and therefore is pending source verification as
possible fanon
. After the article has been provided with adequate source and/or appearance information, you may remove this message. Please note that other Indiana Jones Wiki articles are NOT a source. If this article is not provided with sources in
7 days
, it can be deleted.