Cuzco (also Cusco) is a city in Peru. It was the capital of the Inca empire, and in it were many temples and palaces, including the Temple of the Sun, which was completely covered with a thin layer of gold leaf. There is an abundance of indigenous people there. Its main attraction is Machu Picchu, which lies near the city.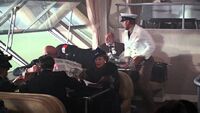 "No ticket."
This article does not have a list of
sources
or
appearances
and therefore is pending source verification as
possible fanon
. After the article has been provided with adequate source and/or appearance information, you may remove this message. Please note that other Indiana Jones Wiki articles are NOT a source. If this article is not provided with sources in
7 days
, it can be deleted.
Appearances