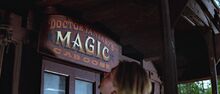 Doctor Fantasy's Magic Caboose was the last car of the Dunn & Duffy traveling circus train. In 1912, Indiana Jones used the magician's equipment inside to escape from Fedora's Gang.
Behind the scenes
[
]
"Dr. Fantasy is a great party host, and a master of several complicated high dives into large cakes."
"Doctor Fantasy" was an identity Indiana Jones producer Frank Marshall adopted when performing magic shows during crew parties. After accidentally falling into a cake during the wrap party for Raiders of the Lost Ark, it became a tradition for Marshall (as Doctor Fantasy) to dive into cakes as a part of parties during the making of Indiana Jones and the Temple of Doom and Indiana Jones and the Last Crusade. The name on the caboose is a reference to Marshall's "Lucasfilm tradition".[1]
Appearances
[
]
Notes and references
[
]