"Lots of good, timely news."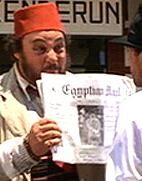 The Egyptian Mail was a newspaper. Sallah Mohammed Faisel el-Kahir carried a morning edition copy of the newspaper while meeting with the newly arrived Marcus Brody in Iskenderun in 1938.
When the pair were approached by a Sinister Man and his second demanding their papers, Sallah tried to distract them by holding up the Egyptian Mail as he encouraged Brody to run. However, Brody failed to heed his words quickly enough, so Sallah simply settled for punching one of the men blocking their path from underneath the newspaper.
Appearances
[
]