Frank Vincent (April 15, 1937 - September 13, 2017), born Frank Vincent Gattuso Jr., was an American actor and voice actor who played Italian-American mobster Johnny Torrio in Young Indiana Jones and the Mystery of the Blues.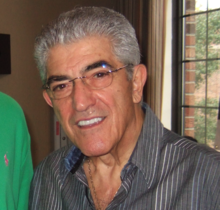 Vincent starred in many films generally playing mobsters and gangsters. He was famous for his roles in movies like Raging Bull, Goodfellas, Casino, all directed by renowned director Martin Scorsese, with Vincent as one of his most frequent collaborators. He was also famous for voicing Salvatore Leone in the Grand Theft Auto video game franchise. In addition, he had roles in many television shows such as The Sopranos, Mr. Pickles, and Law & Order: Special Victims Unit.
On September 13, 2017, Vincent passed away during open heart surgery in New Jersey following a heart attack that he had suffered at the beginning of the month. He was 80.
External links
Edit
Community content is available under
CC-BY-SA
unless otherwise noted.