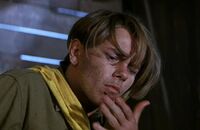 "The subject of this article was cancelled."
This article covers a film, book, comic or game that was cancelled or replaced by another product. Cancelled material is usually not
canon
; however, aspects of such material sometimes find their way into later products and thus become canon. You have been warned.
Geneva, May 1909 was an unproduced episode of The Young Indiana Jones Chronicles, which would have been part of the third season of the series. The subject of the episode would have been history, with the theme being "What is Compassion?".
In this episode, Indiana Jones would encounter Jean-Henri Dunant, the elderly uncle of a friend, who tells him the story of the Red Cross. While on a mission to visit Louis-Napoleon in Italy for a business deal, Indy views Louis-Napoleon and the Austrians in battle. He sees the carnage and goes across the battle to meet him. Looking to help, Indy searches for the hospital tent, which has been destroyed along with many of its medical staff. Dunant conceives of a neutral organization that would take care of people after a battle, becoming a recognizable symbol for medical personnel and hospitals. Switzerland ultimately agrees to sponsor a conference composed of European leaders, and the Red Cross is formed.
External links
[
]