"Dr. Jones, what you look at?"
This article would greatly benefit from the addition of one or more new images. Please
upload
a relevant image and place it here. Once finished, this notice may be removed.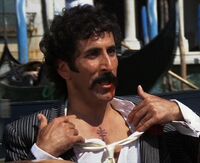 "Who are you?"
The title of this article is conjectural. Although this article is based on canonical information, the actual name of this subject is pure conjecture. Please see the reasons for this title in the "
Behind the scenes
" section below, and/or the relevant discussion on the
talk page
.
A greaser was present in Arnie's Diner when Indiana Jones went there together with Mutt Williams in 1957.
Biography
[
]
When Mutt Williams hit Joe College, one of the lettermen who also were present in Arnie's Diner, another letterman hit him back and pushed him into the group of greasers. That greaser stood next to the place where Mutt bumped into the group, and he and his friends got ready to defend Mutt. They became then involved in the fight that broke out between the lettermen and the greasers, enabling Mutt and Jones to escape to the Diner's door.
Behind the scenes
[
]
Jimmy Dempster played the uncredited Greaser in Indiana Jones and the Kingdom of the Crystal Skull.
Appearances
[
]