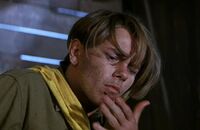 "The subject of this article was cancelled."
This article covers a film, book, comic or game that was cancelled or replaced by another product. Cancelled material is usually not
canon
; however, aspects of such material sometimes find their way into later products and thus become canon. You have been warned.
"Havana, December 1919" was an unproduced episode of The Young Indiana Jones Chronicles, which would have been part of the third season of the series. The subject of the episode would have been integration. Jonathan Hales was involved with writing this episode.[1]
In this episode, Indiana Jones, a freshman at the University of Chicago, gets a request from his father to spend Christmas with friends in Havana, Cuba. There, Indy would befriend Cristobal Torriente. The story also involved an exhibition baseball game where a white American team, Babe Ruth among them, comes to play against an integrated Cuban team. Indy learns about racism in the US National Leagues. During the game, Torriente gets the opportunity to play against Ruth and outplays him. However, he knows that ultimately his dream of playing in the Major Leagues will not be realized. Adolfo Luque was also intended to be featured in the episode.
Notes and references
[
]
External links
[
]