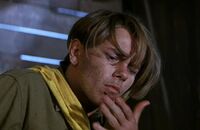 "The subject of this article was cancelled."
This article covers a film, book, comic or game that was cancelled or replaced by another product. Cancelled material is usually not
canon
; however, aspects of such material sometimes find their way into later products and thus become canon. You have been warned.
"Hollywood, Early August 1920" was an unproduced episode of The Young Indiana Jones Chronicles, intended part of the third season of the series. The subject of the episode would have been filmmaking, with the theme "Art vs. Commerce".
In this episode, Indiana Jones is asked by Universal Studios head Carl Laemmle in New York to go out to Hollywood in order to shut down the over-budget production of Austrian-American director Erich von Stroheim's Foolish Wives. In Hollywood, Indy meets Irving G. Thalberg, new executive of the studio, and plots how to get Von Stroheim away from the film after the director discovers the reason for Jones's presence and tries to outwit him. Meanwhile, Indy would begin a friendship with a young script editor dedicated to her career who works for Stroheim. Film director John Ford was also intended to be a part of the episode.
While the material was filmed, the TV show's cancellation meant that the episode didn't see broadcast until it was edited together with its fellow unrealized episode, "Newhall, Late August 1920", into the TV movie Young Indiana Jones and the Hollywood Follies, released on home video as part of The Complete Adventures of Indiana Jones on VHS.
External links
[
]