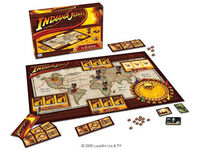 Indiana Jones: Il Gioco (Indiana Jones: The Game) is an Italian-language board game, released by Editrice Giochi in 2008.
Publisher's summary
[
]
Original Italian
[
]
L'archeologo più famoso del mondo sta per tornare e voi potrete unirvi a lui in questa fantastica avventura, alla ricerca di un misterioso oggetto antico le cul tracce si sono perse da secoli e che si narra abbia poteri misteriosi.
Per riuscire a vincere dovrete esplorare le regioni più lontane e inaccessibili del nostro planeta dal Nord America all'Europa, dall'Asia all'Africa e Sud America, affrontare mille pericoli e mille avversari.
Accumulate punti esperienza e punti abilità che vi consentiranno de accedere ai segreti più nascosti e, infine, riuscirete a risolvere il mistero!
English translation
[
]
The most famous archaeologist in the world has returned and you can join him in this adventure, in search of mysterious objects from ancient cultures, lost for centuries, said to have mysterious powers.
To win, you must explore the most remote and inaccessible regions of the planet, from North America to Europe, Asia, Africa and South America, facing many dangers and a thousand opponents.
Earn experience points and skill points, granting you access to hidden secrets, and ultimately solve the mystery!
Appearances
[
]
Characters
[
]
Locations
[
]
External links
[
]