Indiana Jones: The Ultimate Guide is a 2008 reference book written by James Luceno. It is the first work to cover all of the Indiana Jones media.[1]
Indiana Jones: The Ultimate Guide (Collectors Edition) was later released in a limited run of five hundred limited edition copies by Lucasfilm Ltd. and Previews. It features a synthetic leather hardcover, six exclusive art spreads with tracing paper overlays, and an attached packet containing six photos from the films. It was an exclusive item on StarWars.com.[2][3][4]
Publisher's summary
[
]
The first complete companion to the adventures of Indiana Jones!
Indiana Jones: The Ultimate Guide is the definitive guide to Indiana Jones and his world. From the jungles of South America to the deserts of Egypt, from the precious Sankara Stones to the Holy Grail, this book uncovers, for the first time, all there is to know about the world's favourite whip-wielding archaeologist. Featuring stills from all four movies — including Indiana Jones and the Kingdom of the Crystal Skull — along with the television series, The Adventures of Young Indiana Jones, comic-book art and exclusive illustrations and maps commissioned for this book, the Ultimate Guide is an undiscovered treasure for every Indiana Jones fan!
Collectors Edition publisher's summary

[

]
Since Indy's debut in 1981's Raiders of the Lost Ark, fans have followed the adventures of learned scholar and hunky professor Indiana Jones. He is the unlikely action-hero who undertakes perilous adventures involving snakes, rats, spiders, and villains, in order to stop powerful, mystical artifacts from falling into the wrong hands. With a fourth installment underway, fans can brush up on their Indy knowledge and relive the archeologist's best--and worst--moments.
Packed with a wealth of information from all four movies-about the characters, movie story lines, ancient ruins and artifacts, the history, and the mysticism - Indiana Jones: The Ultimate Guide (Collectors Edition) provides fans with everything they need to know about the unconventional archaeologist and his world.
This collectors hardcover edition, limited to only 500 pieces, features a high-end synthetic 'leather' hardcover, six exclusive art spreads with tracing paper overlays, plus a special envelope attached featuring 6 high-quality photos from the films!
Contents
[
]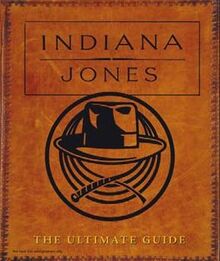 Appearances
[
]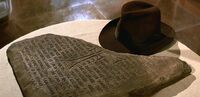 "Maybe if the Tablet were intact, you'd have something to go on. But the entire top portion is missing."
This article has an excess of redlinks in it. Attention is requested to create new articles from these links. Please remove this message when finished.
Characters
[
]
Barbarossa

Annie Besant

Hiram Bingham III

Ty Cobb

Jim Colosimo

Confucius

Contessa of Toledo

Count Dracula

Nancy Drew

Errol Flynn

Ganesha

Ulysses S. Grant

Harold Green

Ernst Henne

Robin Hood

'Amr ibn al-'As

Andrew Irvine

Krishna

George Mallory

Robert Moses

Harry Pickering

Rosa

Saul

Schmidt

Sergei

Eric Shipton

Bill Tilman

Johnny Torrio

Arnold Toynbee

Vlad Tepes

Richard Wagner

Waters

George White

Katrina Zobolotsky

Vladimir Zobolotsky
Artifacts
[
]
Alicorn

El Dedo de Oro

Jewel of Heaven

Ram's-head staff
Locations
[
]
Vehicles and vessels
[
]
DC-3

Lusitania

Martin M-130 flying boat

USS Akron
USS Macon
Zeppelin
Events
[
]
Armistice Day

Black Thursday

Boxer Rebellion

D-Day

First Crusade

Fourth Crusade

Jewish Exodus

Last Supper

Olympic Games

Palm Sunday

Restoration

Sepoy Mutiny

Spanish Civil War

Russian Revolution
Miscellanea
[
]
Africa Corps

Air East India

Archaeological Society

Archaeology Society Prize

Australian Light Horse Brigade

Baboon

Ballets Russes

Baseball

Berber

BMW

Bolshevik

Brownshirt

Bubonic plague

Buddhist Wheel of Righteousness

Buffalo

Chicken

Chigger

Coca

Cricket

Detroit Tigers

Dove

Eel

Fly

Gilbert and Sullivan

Gnat

Mole

Navajo

New Deal

Pigeon

Pigeon-flambé

Pirahna

Poker

Ramapithecus

Saxophone

Scandals of 1920

Scheherazade

Sky Pirates

Snake

Sweat bee

Theosophical Society

Treaty of Versailles

Unicorn

US Air Force

US Stock Exchange

Voodoo doll
Behind the scenes
[
]
For the original hardcover print version of the book, there are at least two printing variations. The most noticeable difference can be found on page 100, in a call out for the Greco-Roman facade of the Grail Temple: one printing of the book list the construction of the temple as 1000 CE, while the other printing incorrectly uses the year 1000 BCE.
Notes and references
[
]
External links
[
]