"Well, things can't always be the way you want them to be."
This article or section contains information about a scheduled or expected future product. It is likely to contain information of a speculative nature and the content may change dramatically as the product release approaches and more information becomes available.

Originally reported by some sites to be released on May 13,[1][2] Paramount will release "Special Editions" of the first three films on May 12, 2008, as a tie-in to Indiana Jones and the Kingdom of the Crystal Skull.[3] The flyers in the Stardust DVDs advertise the original films as being released individually as Special Editions on DVD on May 12.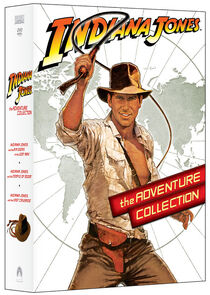 Indiana Jones and the Raiders of the Lost Ark: Special Edition
Indiana Jones and the Temple of Doom: Special Edition:
Indiana Jones and the Last Crusade: Special Edition:
Cover gallery
External links
Cite error: <ref> tags exist, but no <references/> tag was found