"Well, things can't always be the way you want them to be."
This article or section contains information about a scheduled or expected future product. It is likely to contain information of a speculative nature and the content may change dramatically as the product release approaches and more information becomes available.
"I feel obliged to make sure that our efforts are as ambitious as they were when we started."
Indiana Jones 5 is the colloquial title of an upcoming fifth theatrical installment in the Indiana Jones franchise starring Harrison Ford, due for release on June 30, 2023. During the 2020 Disney Investor Day, Lucasfilm Ltd. president and producer Kathleen Kennedy introduced the film as the "next and final installment" of the series although official channels reporting on the event have omitted any mention that the film is the series' last.
The film was officially announced in 2016 after years of rumors and speculation with a release date of July 19, 2019, but the date was pushed back threefold following delays surrounding the script and story, and later due to the impact on the film industry by the 2019–20 coronavirus pandemic. Filming finally began in early June 2021 but, following coronavirus contagions amongst the crew and an on-set injury for Ford, the film's theatrical debut saw yet another delay as The Walt Disney Company restructured the release schedule of several productions including Indy 5. Filming concluded in late February 2022.
Ford reprising his role as Indiana Jones will see the actor having played the archaeologist at least once in every decade – with the exception of the 2010s – since the franchise's debut in 1981 with Raiders of the Lost Ark.
Press release (2016)
[
]
Indiana Jones will return to the big screen on July 19, 2019, for a fifth epic adventure in the blockbuster series. Steven Spielberg, who directed all four previous films, will helm the as-yet-untitled project with star Harrison Ford reprising his iconic role. Franchise veterans Kathleen Kennedy and Frank Marshall will produce.
"Indiana Jones is one of the greatest heroes in cinematic history, and we can't wait to bring him back to the screen in 2019," said Alan Horn, Chairman, The Walt Disney Studios. "It's rare to have such a perfect combination of director, producers, actor and role, and we couldn't be more excited to embark on this adventure with Harrison and Steven."
Famed archaeologist and explorer Indiana Jones was introduced in 1981's Raiders of the Lost Ark – one of AFI's 100 Greatest American Films of All Time – and later thrilled audiences in 1984's Indiana Jones and the Temple of Doom, 1989's Indiana Jones and the Last Crusade, and 2008's Indiana Jones and the Kingdom of the Crystal Skull. The four films have brought in nearly $2 billion at the global box office.[10]
Appearances
[
]
Cast
[
]
Behind the scenes
[
]
Background
[
]
In 1979, Steven Spielberg and George Lucas made a deal with Paramount Pictures for five films related to the adventures of archaeologist Indiana Jones.[16] Following the release of Indiana Jones and the Last Crusade in 1989, Lucas let the film series rest as a trilogy as he felt he could not think of a good plot device to drive the next installment, and chose instead to produce The Young Indiana Jones Chronicles for television, leaving two of his optional sequels unmade. While working with Harrison Ford as they filmed his guest appearance on the show, however, Lucas saw the potential of films featuring an older Indiana Jones and developed the idea into what eventually took shape as Indiana Jones and the Kingdom of the Crystal Skull.[17]
2005-2008
[
]
In an April 2005 interview, George Lucas stated the possibility of introducing a younger character in Indiana Jones 4, not to take over as a main character but to possibly use in future Indiana Jones films.[18] However, in an interview for the May 2005 issue of Time magazine, he was quoted as saying that he didn't plan to make any more Indiana Jones films after the fourth.[19] The introduction of Mutt (Shia LaBeouf) for Kingdom of the Crystal Skull led to speculation that the character was Indiana's son (which the film confirmed), and would take over the franchise from Harrison Ford.[20] Rumors also circulated that LaBeouf had signed a three film contract with Paramount, with Ford involved with a further trilogy of pictures.[21]
In an interview with IGN, "[Spielberg] indicated that LaBeouf has to make multiple Transformers movies before he can move over and take on the fedora and bullwhip of Indiana Jones."[22] The actor himself said, "Am I into it? Who wouldn't be? I don't think that's reality. It's a fun rumor."[23] In an interview with Entertainment Weekly, Lucas was asked if he planned to make any more Indiana Jones films after Kingdom of the Crystal Skull, to which he replied: "That I don't know. We do these one at a time and we do them purely for the fun of it, which means that if we've got too many other things going on — Steve [Spielberg]'s got a couple more movies, he's got Chicago Seven, he's got all this stuff backed up for years — who knows?".[24] He made a similar statement in the May 2008 issue of Total Film magazine when asked "Is Crystal Skull a full stop or a new beginning." saying "I don't know. There's no motive other than to enjoy ourselves. We'll see what happens..."[25] In an interview with USA Today, Ford voiced his support for a fifth film, with the condition that it didn't take as long to develop as Kingdom of the Crystal Skull.[26]
George Lucas made a suggestion that there would be a fifth film while at the 2008 Cannes Film Festival. There, he revealed his idea "to make Shia [LaBeouf] the lead character next time and have Harrison [Ford] come back like Sean Connery did in [the third film]". Lucas has also said that age would not be a factor, as Ford was "65 and did everything in [Crystal Skull]. The old chemistry is there, and it's not like he's an old man. He's incredibly agile; he looks even better than he did 20 years ago, if you ask me".[27] In response, Ford said he would continue to play the character if asked, and LaBeouf expected the possibility of a fifth film to be based on public reception of the Mutt character.[28] In August 2008, Lucas was researching potential plot devices, and stated Spielberg was more open to the idea of the fifth film.[29] He had also changed his mind about continuing the series with a spin-off, joking that "Indiana Jones is Indiana Jones. Harrison Ford is Indiana Jones. If it was Mutt Williams it would be Mutt Williams and the Search for Elvis or something."[30][31] In September, Karen Allen expressed interest in reprising her role for a fifth film.[32] Two months later, in an interview on November 19th, Ford stated that he would return if it was not an animated film like Star Wars: The Clone Wars, because "I'd hate to see it reduced in any way from the movies that we have done and the way we have done them." He also called Lucas' concept for the fifth film "crazy but great".[33]
2009-2010
[
]
Though he wouldn't elaborate on the quote in a later interview with MTV in January 2009, Harrison Ford spoke of interest in seeing the relationship deepened between Indiana Jones and his son, Mutt Williams and hope that Karen Allen would return.[34] Speaking to BBC News journalist Lizo Mzimba in June 2009, Shia LaBeouf confirmed that "Steven [Spielberg] just said that he cracked the story on it [the fifth film], I think they're gearing that up."[35] A June 18, 2009 message on Frank Marshall's Twitter page indicated that "The story for Indy5 is progressing. It is still in the research phase."[36]
On September 14, 2009, Le Figaro interviewed Harrison Ford where the actor said that "the story for the new Indiana Jones is in process of taking form. Steven Spielberg, George Lucas and myself are agreed on what the fifth adventure will concern, and George is actively at work. If the script is good, I'll be very happy to put my costume on again."[37] In a brief interview with TheArnoldFans.com on December 1, 2009, Lucas was asked about the status of the new film and replied, "The next Indy film? Yes, we're working on it. It's in development. That's all I can say right now."[38]
An update by Marshall posted on May 5, 2010 relayed that there was "Nothing to report on Indy 5..."[39]
On June 8, 2010, New Zealand website Stuff.co.nz published an article claiming to have news from an unnamed source that the fifth installment would begin filming in 2011 with much of the plot concerning the Bermuda Triangle.[40] However, the next day, Frank Marshall demissed rumor of a 2011 production start as the film was "still in the research phase".[41] ShowbizSpy.com posted an article on August 19 which included comments by Shia LaBeouf stating that "they're scriptwriting right now" and that he was pitched part of the film at Spielberg's office. He echoed Ford's earlier statement, saying that "it sounds crazy, it sounds really cool".[42] In a November 8 interview, Ford was quoted as saying that "George [Lucas] tells us that he's working on something, and both Steven [Spielberg] and I are waiting to see".[43]
On December 12, based on his past association with Lucas and Spielberg, actor Liam Neeson was asked during an interview with NarniaFans.com if he would accept an offer to appear in Indiana Jones 5 if asked. The actor said he would if Harrison Ford was involved.[44]
2011
[
]
Frank Marshall's Twitter page stated that "There are no updates on INDIANA JONES..." on January 21, 2011.[45]
Prior to the premiere of White Irish Drinkers on March 25, in which Karen Allen had a role, TheDeadbolt.com asked her about the status of Indiana Jones 5 where she was quoted as saying "What I know is that there's a story that they like" and that she "...heard this about six months ago, that they have a story that they like and they're working on it."[46]
On June 7, MTV posted an interview with Shia LaBeouf at the 2011 MTV Movie Awards in which he claimed that he had spoken with Harrison Ford: "[Ford] said he's staying in the gym, he said he's heard no word, but he does know that [George Lucas] is out there looking for a MacGuffin. He said he's staying in the gym, so it means [the movie is] not so far off."[47]
An interview posted by UK newspaper, the Metro, quoted Ford on August 22 as saying that the Indiana Jones 5 script "has not even got to the point where I know what the story is going to be."[48] Earlier in the month, SciFiPulse.net quoted Ford stating that "We haven't got a story yet, that all of us involved have confidence in. And we're waiting for that to happen. If it does I will be happy to do another."[49]
The LA Times website published an interverview with Spielberg from the September 12 LA Live screening of Raiders of the Lost Ark in which he was asked if Lucas and he spoke of a fifth movie: "We talk about it, yes, yes, and we're hoping- hopeful. Someday. Hopeful."[50]
On October 26, Empire published an interview with Spielberg that included asking the director where things stood with 'Indy V': "You have to ask George Lucas. George is in charge of breaking the stories. He's done it on all four movies. Whether I like the stories or not, George has broken all the stories. He is working on Indy V. We haven't gone to screenplay yet, but he's working on the story. I'll leave it to George to come up with a good story."[51]
An interview through Extra published on November 11 included Harrison Ford stating that "[Indiana Jones 5]'ll happen when it happens."[52]
December 2 saw TheRaider.net's Twitter feed update with "New [Entertainment Weekly] Spielberg states that there is no Indy 5 until Lucas says there is. they have agreed on the genre & concept of it waiting on story."[53]
Vulture's website on December 12 published a quote in which Lucas said "I told [Spielberg] about the story, but I really haven't found the MacGuffin yet. I mean, I know what it's about, but I just have to find a MacGuffin that fits into the arena we're working in."[54]
2012
[
]
January 17, 2012 saw The New York Times publish an interview with George Lucas stating his intention to retire from blockbuster movies, but left an "out clause" for a fifth Indiana Jones picture.[55]
On April 30, Bloomberg.com posted an interview with Lucas that closed with his stating that "I am working on a fifth Indiana Jones. I have to get it approved by Steven and Harrison". He also added that the last movie took fourteen years to get to that point.[56]
On October 30, it was announced that the The Walt Disney Company had purchased Lucasfilm Ltd. for $4.05 billion.[57] During a conference call to discuss the acquisition, it was stated that while the Indiana Jones license did fall under the deal, Disney's focus was on Star Wars movies and "encumbrances" were in place with Indiana Jones due to Paramount Pictures' distribution.[58]
2013
[
]
On December 6, 2013 it was announced that Disney and Paramount reached a distribution agreement for any subsequent Indiana Jones films, but stated that no films in the series were in pre-production.[59][60] Three days later, December 9, Frank Marshall tweeted that it felt "A bit strange sitting in the Indiana Jones office in the Lucasfilm office on the Disney lot, but I'm sure I'll get used to it."[61] On December 13, Variety reported that another Indiana Jones picture could not be expected for at least two to three years and quoted Walt Disney Studios Chairman Alan F. Horn as saying "We don't have a story. We need a story." at the magazine's Dealmakers Breakfast.[62]
2014
[
]
On February 18, 2014, Den of Geek reported from an unnamed source that at least prior to Christmas 2013, stages at Pinewood Studios had been booked for future use with Indiana Jones 5 being included by the planning office amongst Disney's Star Wars pictures.[63]
On September 30, 2014, Variety.com published an article about three major cinematographers releasing free educational videos online. The mini-biography of Crystal Skull's Janusz Kamiński listed his next project as being "the upcoming fifth Indiana Jones movie".[64] However, Variety amended the article to say that "An earlier version of [the] story incorrectly stated that Janusz Kamiński is working on the next Indiana Jones movie".[65]
A tweet from Variety's Marc Graser on December 10, quoted Disney CEO Bob Iger as saying "We'd love to make another Indiana Jones movie but we're pacing ourselves right now".[66]
2015
[
]
In January 2015, Deadline stated that Disney was looking at Chris Pratt for the role of Indiana Jones.[67] On Twitter, Latino Review's Umberto Gonzalez followed by saying that the timeframe for the film was 2018/2019.[68] Two days later, TMZ uploaded a video to YouTube of their ambushing Pratt who said that he had no idea of any talks.[69] A month later, Deadline followed up their previous story by saying that Disney is developing a "rebirth" of the film series with Steven Spielberg reportedly being interested in directing a series reboot starring Pratt.[70]
In May, Lucasfilm Ltd. president Kathleen Kennedy stated that while no work had begun on a script, there were talks within the company and a fifth film would happen. When that would be, however, was uncertain.[71] The following month, Ain't It Cool News posted a rumor that Lucasfilm was looking at the fifth film seeing a release towards the end of 2018.[72] In July 2015, Kennedy told reporters that "[Another Indiana Jones film] will one day be made inside this company. When it will happen, I'm not quite sure. We haven't started working on a script yet, but we are talking about it."[73]
In an October 2015 interview with Yahoo! Movies, Spielberg expressed interest in having Harrison Ford return in the fifth film.[74] Later that month, in an interview with Extra, the director indicated that there was "a very strong probable chance that [Indy 5] is going to happen. Before Harrison decides to hang up the bullwhip himself." He also joked — in reference to Ford's plane crash earlier in the year — that there'd be "no airplanes in Indy 5. None".[75] In the same month, Frank Marshall asserted that the character of Indy would not be recast.[76]
December saw an interview with Kathleen Kennedy in which The Hollywood Reporter asked where she was with Indiana Jones 5. She mentioned that both Ford and Spielberg were keen to do it but apart from story ideas being discussed, focus was on Star Wars.[77] On December 28th Disney CEO Bob Iger stated that another Indiana Jones film "will be coming."[78]
2016
[
]
On February 9, 2016, stuntman Vic Armstrong, who had served as Harrison Ford's double in the first three films, expressed interest in working on the film as Second Unit or Action Unit Director but stated that he had aged out of being to serve as Ford's double again.[79] February 20 saw John Rhys-Davies expressing interest to Digital Spy in reprising his role as Sallah in a "meaningful" way having declined an earlier opportunity to appear in the fourth film.[80]
On March 15, Disney officially announced that the fifth Indiana Jones movie would be released July 19, 2019 and that both Spielberg and Ford would return.[81] It was subsequently revealed that Crystal Skull writer David Koepp would also return to write the script,[82] which Frank Marshall has said will be a "direct continuation" from Crystal Skull and not a prequel as previously rumored.[83] On March 19, Karen Allen again expressed her desire to return as Marion Ravenwood.[84]
June 9 saw the confirmation that John Williams would continue his involvement with the franchise and score the film.[85] On June 15, with regards to the film's plot, Spielberg told The Hollywood Reporter in an article published that "The one thing I will tell you is I'm not killing off Harrison at the end of it".[86] He had told Empire magazine earlier in the year that the film's MacGuffin, the object which Indiana Jones pursues throughout the movie, had been decided upon.[87] On June 20, MoviePilot.com reported that George Lucas was involved with the film as an executive producer.[88] Additionally, on June 22, Spielberg stated that filming of the fifth film would start in 2018.[89]
On October 24, Koepp stated that, with regards to the film's story, Lucas would not be involved, making it the first film in the franchise that would not be based on a story from Lucas.[90] In an interview with Movie Fone on December 7, Frank Marshall mentioned that although Koepp was having talks with him and the film's crew about the plot, Indy 5 was still in early stages with the writing of the script not yet begun.[91]
2017
[
]
On February 26, 2017, Star Wars actor Mark Hamill, during an interview with Comic Book Central, expressed interest in playing a villain for the film.[92] Speaking with ScreenCrush on March 10, Jim Broadbent stated that while he hadn't been contacted by Spielberg to reprise his role of Charles Stanforth, he was willing to do so.[93]
On April 25, it was announced that Indy 5's release had been pushed back to July 10, 2020.[94] That same day, Jon Favreau, the director of the live-action remake of The Lion King, revealed that his film would arrive in cinemas on July 19, 2019.[95]
On September 4, David Koepp told Entertainment Weekly that the character of Mutt Williams, portrayed by Shia LaBeouf in the previous installment, would not be returning in the film. He also indicated that the screenplay was at a stage where both he and Spielberg were "mostly happy with" it.[96] During an interview with Chris Heath of GQ, published nine days later, September 13, Harrison Ford received a text informing him that a new version of the film's script was ready for him to look at, and he told Heath of his hopes that filming would begin in the second half of 2018.[97] On September 23, during an interview with Film International about her film Year by the Sea, Karen Allen commented she had yet to be contacted with regards to her reprising her role as Marion Ravenwood, and speculated that she would find out either way once the production was preparing to cast the film.[98] Four days later, on September 27, actor Ryan Gosling, who starred alongside Ford in Blade Runner 2049, expressed his interest in being a part of the fifth film when asked and joked that he was working on securing a role.[99]
On October 9, Yahoo Movies UK published their talk with John Rhys-Davies during which he reiterated his desire to return as Sallah, suggesting that his character could have had a similar life to Syrian archaeologist Khaled al-Asaad "that marvellous 80-year-old man who was defending his museum in Palmyra and who hid its major treasures and refused to give them over to ISIS and was beheaded in the town square."[100]
2018
[
]
On January 19, 2018, Deadline reported that with the release of The Post and development finished on Ready Player One, Steven Spielberg was deciding between Indiana Jones 5 and his planned remake of West Side Story for his next film.[101] The Hollywood Reporter followed with a piece published on January 26 stating that Indy 5 was to take precedence of the two projects.[102]
On March 19, Empire reported that Spielberg, during the Rakuten TV Empire Awards, revealed that shooting for Indiana Jones 5 would begin in April 2019 in the United Kingdom.[103] Speaking with the magazine on their March 23 podcast, Spielberg confirmed that the movie would be set in 1960s, and that the script and story were still being worked on.[9] In an April 3 interview, Spielberg stated that the fifth Indiana Jones would likely be Harrison Ford's last in the titular role.[104]
On June 28, Collider reported that Solo: A Star Wars Story writer Jonathan Kasdan, son of Raiders of the Lost Ark writer Lawrence Kasdan, had been hired to write the film's script, replacing David Koepp, although to what extent he was involved with the draft was unclear.[6] Variety followed with a news piece stating that the film production had been pushed back and thus the movie would miss its intended July 2020 release date.[105] Two days later, on June 30, Kasdan jokingly replied on his Twitter account in response a fan question asking for confirmation that he was working on the script that Lucasfilm Ltd. had directed him to simply tell people that they had "top men" working on it.[106]
On July 10, it was confirmed that the film's new release date would be on July 9, 2021.[107] On July 23, when asked by one of her Instagram followers if she would make a cameo appearance as Willie Scott's daughter in the film considering that her sister Sasha made a cameo in the fourth film, Spielberg and Scott actor Kate Capshaw's daughter, Destry Spielberg, replied that she would audition for the role if she had the chance.[108]
On October 1, in an interview with ComingSoon.net, Frank Marshall confirmed that, unlike Kingdom of the Crystal Skull, which was shot almost entirely in the USA, the fifth movie would be more global in its filming locations. He also revealed that a "writers room", led by Jonathan Kasdan, had been assembled to collate ideas for the production, and commented upon the film's development without George Lucas playing a central role (suggesting that Lucas may not be involved despite Spielberg's earlier comments).[109] Ten days later, on October 11, Marshall told Nerdist that the fifth film's story hasn't been written ay that point but would be "great".[110]
On December 3, Karen Allen told Cinemablend "I'm very much hoping that I will be a part of it and I think, from my understanding, they are creatively working away on a script that they will be happy enough with. They don't want to rush into it. If they're going to do this they want it to be wonderful." and "They have embarked on a whole new trajectory, I think. It's a mystery to me what that is and it's a mystery to me whether I will be part of it, but I'm hoping. I would love to be part of it. I probably won't know for a year or something like that."[111]
2019
[
]
On May 1, 2019, MakingStarWars and MakingIndy editor Jason Ward credited unnamed sources with word that Jon Kasdan was no longer working on the fifth Indiana Jones picture, his script reputedly having been based around the Nazi gold train legend. Writing duties would be taken up by This Is Us creator Dan Fogelman who was working with a different premise.[112] /Film approached their own anonymous sources to corrobate the story who came back to say that Kasdan had indeed left the production but that the premise suggested by Ward wasn't an element of Kasdan's script.[113] Six days later, on May 7, in the wake of the company's acquisition of 20th Century Fox, The Walt Disney Studios published a list of its upcoming film projects which reaffirmed that the "Untitled Indiana Jones" film was still penciled in for a July 9, 2021 release.[114]
On June 2, when asked by Variety about the fifth Indiana Jones film while visiting the newly opened Star Wars: Galaxy's Edge theme park, Harrison Ford commented that filming should begin sometime in 2020 (having initially been misquoted as saying that it would be June 2019).[115] On July 28, on their Twitter account, the DiscussingFilm website asserted that the production was looking to start Indy 5 filming in London in April 2020.[116]
On September 9, MovieWeb published comments by A Quiet Place writers Scott Beck and Bryan Woods indicating that they had been approached by Lucasfilm Ltd. about both Star Wars and Indiana Jones in the wake of their own movie's success but the writers were more interested in pursuing original content.[117] During an interview with Den of Geek, published on September 22, David Koepp revealed that despite his initial exit, he had returned to working on Indy 5.[118] Three days later, on September 25, The Hollywood Reporter quoted The Walt Disney Company CCO and Co-Chairman Alan F. Horn saying that Kathleen Kennedy and Lucasfilm Ltd. were working not only on Star Wars projects, but also Indiana Jones.[119]
2020
[
]
On February 2, 2020, during the 73rd British Academy Film Awards, after being handed the BAFTA Fellowship, Kathleen Kennedy was asked by a BBC News journalist about the development of the fifth Indiana Jones film. She replied that work on the script was still ongoing and reaffirmed that Harrison Ford would be involved and that the film would be a sequel to Kingdom of the Crystal Skull, not a reboot.[120] Eight days later, on February 10, Showbiz 411 attributed Shia LaBeouf with saying that he'd heard nothing about the film and that "Those people really didn't like me" in reference to his relationship with Lucasfilm Ltd., indicating that his involvement with the production was unlikely.[121] February 13 saw Harrison Ford reiterating to CBSC's Lee Cowan that he would be reprising his role as Indiana Jones, adding that filming for the fifth Indiana Jones would begin in about two months: April 2020.[122] The next day, February 14, on The Ellen DeGeneres Show, Ford stated that filming would happen in late summer.[123] The following day, February 15, during an interview with IGN for The Call of the Wild, the actor revealed that the Indy 5 story would "see new developments in his life, his relationship. We'll see part of his history resolved."[124] On February 26, Variety reported that Steven Spielberg had decided to step down as director to "pass along the whip to a new generation to bring their perspective to the story", and remain attached to the project as producer. Instead, Ford v Ferrari director James Mangold entered into talks to direct the film.[2]
On March 30, former writer Jon Kasdan stated on his Twitter account that his work on the fifth Indiana Jones film was over and that he was no longer involved.[125] He later debunked the rumors about his script involving the Nazi gold train legend but had enjoyed his experience with the project, specifically when he had sat with Spielberg, Ford and Kathleen Kennedy to discuss the Indiana Jones character.[126]
On April 3, Deadline reported on a new agenda for The Walt Disney Company's 2020-2021 release schedule in response to the 2019–20 coronavirus pandemic's impact on the film industry. Among those projects moved was the fifth Indiana Jones movie, with its release date set for July 29, 2022. Deadline also noted that Lucasfilm Ltd. is still locking down a deal with James Mangold to direct the film.[127]
On May 25, while speaking to Collider, Frank Marshall confirmed that Mangold had indeed been brought in by Lucasfilm to direct. Marshall also updated on the film's filming schedule, stating that due to the coronavirus outbreak, they were looking at guidelines from health experts to ensure the safety of the cast and crew before they could start filming.[1] Two days later, on May 27, while speaking with ComicBook.com, Mangold declined to comment on what the public could expect from him for the fifth Indy picture, but clarified that like most of his work in other franchises, he would try to find an emotional center to operate from, such as extracting the main character's core values, and compared it to his work on the Wolverine films of the concluded X-Men film series.[128]
During a chat interview with Collider published on June 14, David Koepp revealed that he was no longer attached to the fifth Indiana Jones film, stating that while had written several versions with Steven Spielberg, he had decided to leave the production once Spielberg had stepped away from directing, feeling that James Mangold would be better served by collaborating with a writer of his own choosing.[5] Five days later, on June 19, Koepp further elaborated during an interview with The Hollywood Reporter about his newest film You Should Have Left that while he considered his final iteration of multiple attempts at the fifth film's script to be good, "it didn't quite come together", and then Spielberg left the director's chair.[129]
On September 17, Koepp added that it had been difficult to "have everybody come together and have all the elements — Steven, Harrison (Ford), the script and Disney — come together at once. And it didn't". Koepp also stated that while he had had one polite, friendly conversation James Mangold before leaving the project, he felt that it would have been counter-intuitive for the new director to have his predecessor's writer in a position to disagree with approaches that went against what Spielberg would have done.[130]
In an October 21 interview with Variety, cinematographer Phedon Papamichael revealed that his frequent partnership with director James Mangold would continue on the fifth Indiana Jones picture.[131]
On November 16, writer Skyler Shuler posted an article on TheDisInsider website claiming that Lucasfilm has set an August 2021 production start for the fifth Indiana Jones picture at Pinewood Studios (where all Star Wars features have been filmed since 2012) in the United Kingdom.[132]
On December 8, Frank Marshall assured Den of Geek that work on the script was, at that point, ongoing, expressing his hopes in seeing the story James Mangold has come up with, and once again promised that Harrison Ford would not be replaced as Indiana Jones.[133] Two days later, on December 10, during the 2020 Disney Investor Day, Kathleen Kennedy officially announced that with the film in pre-production, shooting would begin in Spring 2021 for its 2022 release date and introduced the film as the "final installment" in the series with Ford back to "conclude this iconic character's journey".[134]
2021
[
]
On January 5, 2021, in conversation with ComingSoon.net about his film Grizzly II: Revenge, John Rhys-Davies reiterated his interest in returning to play Sallah if asked, noting that the film was allegedly going to be shot in May but voiced some skepticism about such a production getting made around COVID.[135] January 22 saw James Mangold tweet that all the movies he was working on at that time were set in 1960s New York City, potentially hinting at the timeline placement and a locale for the fifth Indiana Jones adventure.[136]
On February 21, Sean Patrick Flanery, who played the Indiana Jones between ages 16 and 21 in The Young Indiana Jones Chronicles, told PopCulture.com that although he hadn't been offered a chance to appear in the film, he would not discard the opportunity if asked while acknowledging that he would not want to replace Harrison Ford in the titular role.[137]
On March 16, cinematographer Phedon Papamichael told Screen International that he was scheduled to travel to the United Kingdom to begin work at Pinewood Studios, finding the fifth Indiana Jones movie a great challenge, adding that it's the biggest budget movie he has ever done. Papamichael also elborated on Steven Spielberg's status as the project's executive producer, stating that Spielberg had spoken with Mangold and was very supportive of the project.[138]
On April 8, Lucasfilm Ltd. announced that Phoebe Waller-Bridge, creator of the comedy show Fleabag and who had previously worked with LFL on Solo: A Star Wars Story, had been cast in the film and would co-star along with Harrison Ford.[3] Two days later, on April 10, Mangold replied to a tweet by saying that he was writing the script alongside the brothers Jez and John-Henry Butterworth, with whom he had collaborated for Ford v Ferrari.[4] April 15 saw Deadline Hollywood report that Mads Mikkelsen had been cast in the film,[7] and seven days later, on April 22, TheWrap followed with news that Thomas Kretschmann had joined the production as well.[11]
On May 5, when asked by Collider for the reaction to his casting, Mikkelsen noted Raiders of the Lost Ark as being one of the films he grew up with and had rewatched it the day prior. Grateful for his casting in the fifth installment, the actor praised the script, saying it was everthing he had wished it to be and happy for having been allowed to read it before accepting the role.[139] May 9 saw the Daily Record claim that Ford was heading to Scotland to shoot the film but the article itself only asserted confidence from an unnamed source that the production was filming there without clarifying to what extent.[140] In a May 13 interview with Esquire, Mikkelsen said he was beginning rehearsals that week and that filming would begin in 4-5 weeks.[141] The next day, May 14, Deadline announced that Boyd Holbrook and Shaunette Renée Wilson had been cast in the film.[12]
On May 27, a post from Bremont Watches' Instagram account indicated that Harrison Ford was in the UK, leading to speculation that he was in the country for filming Indiana Jones.[142] A Reddit user on May 30 shared photos of construction at Bamburgh Castle in Northumberland, England, asserting that the images were for Indiana Jones 5 with filming to begin there in a week,[143] lining up with an earlier local newspaper report that the landmark's visitor car park would be inaccessible between June 7 to 11 to accommodate filming at the site.[144]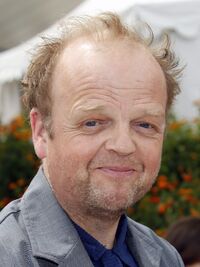 Deadline later claimed an exclusive on June 2, declaring that having "confirmed with sources close to the production," cameras would indeed start rolling the following week (Monday June 7).[145] However, The Yorkshire Post placed Harrison Ford as filming at the North Yorkshire Moors Railway in England on June 4 and reported on "props including tanks, a guard tower and a steam train dressed in the colours of 1940s German railways, as well as rails of Nazi uniforms".[146] On June 6, the Daily Mail reported that a motorcycle stunt had been filmed at night on June 4 — on the same stretch of track where part of Mission: Impossible 7 had been shot a few weeks prior — with a stuntman wearing a mask in the shape of Ford's likeness (of an age closer to the original trilogy of films). The stunt proved difficult as the mask came away and the performer was thrown from the bike albeit without injury.[147] When June 7 came around, the Twitter account of Swiss German Indiana Jones fansite Indiana-Jones.de uploaded behind the scenes images of Harrison Ford in costume (and facemask) alongside producers Kathleen Kennedy and Frank Marshall.[148] Four days later, on June 11, set photos leaked on the Internet featuring Ford filming a scene with Toby Jones, whom the Daily Mail later confirmed to have been cast in the film.[13]
June 13 saw Morocco World News attribute a statement to the CCM, Centre Cinématographique Marocai (Moroccan Cinematographic Center), that Indiana Jones 5 would film in Morocco in the summer of 2021 through producer Zakaria Alaoui and his company Zak Productions.[149] The day prior, in a video speaking on the 40th anniversary of Raiders of the Lost Ark for the Adventurer's Summit (an unofficial Indiana Jones fan convention), John Rhys-Davies had misspoken before correcting himself that the original film was shot in Morocco rather than Tunisia. Later in the clip, the actor made ambiguous noises and what could have been taken as a knowing look to the camera when making an aside that a fifth movie was approaching, fueling speculation that a return for the Sallah character was on the horizon.[150]
As reported by Deadline on June 23, Harrison Ford injured his shoulder during rehearsals for a fight scene, forcing the production to shoot around his absence while the actor recovered.[151] Despite reports claiming that Ford's recuperation had halted production itself for at least three months,[152] producer Frank Marshall took to Twitter from Pinewood Studios to state that it was "business as usual" on June 30.[153]
On July 6, photos on location in the city center of Glasgow, Scotland showed streets being redressed as New York City,[154] corroborating statements made by Glasgow Live weeks earlier that the fifth Indiana Jones film had planned to shoot there.[155] Further images released indicating a celebration for the arrival of the Apollo 11 crew (Neil Armstrong, Buzz Aldrin and Michael Collins) to New York after their historic landing on the Moon suggested that the film would be, at least in part, set around August 1969.[156] Antonio Banderas's place among the cast was announced on July 15.[14]
On August 20, Karen Allen was reported by The Berkshire Eagle to have said "I have been asked not to speak about any involvement" with regards to Indiana Jones 5.[157]
On September 7, Sean O'Grady of the UK Daily Mail Online reported that Harrison Ford had returned to the Indy 5 set the day prior for filming in Buckinghamshire after spending three months recuperating from his shoulder injury,[158] with the subsequent publication of a September 10 Disney release schedule indicating that the film had retained its 29 July, 2022 release date.[159] However, by October 18, the movie encountered a further delay as Disney restructured the release calendar for several of their productions, pushing the film's on-screen debut back to June 30, 2023.[160]
October saw reports of Harrison Ford and Phoebe Waller-Bridge on location in Sicily with set photos depicting a combination of Indiana Jones and his companion along with a (separate) shot of Roman soldiers, fueling speculation that Indy 5 would include a time travel element.[161]
On November 5, the production was hit by the sudden death of the film's second unit grip Nic Cupac who was found in his hotel room on location in Morocco.[162] Fours days later, on November 9, the Morocco World News newspaper reported that bodybuilder Olivier Richters had joined the production.[15]
2022
[
]
When asked on Twitter on January 1, 2022 as to how long was left for filming on Indiana Jones 5, director James Mangold replied "About a month remaining".[163] Producer Frank Marshall indicated that the shoot was in its "final stretch" the following month, on February 20, with a tweet containing an image of Pinewood Studios.[164] He informed his Twitter feed that the film had completed shooting a week later on February 27.[165]
On March 7, James Mangold updated his Twitter followers with news that he had officially begun the editing process on the film (having also worked on the cut while shooting) and encouraged people to keep an eye on his feed for an eventual look at the film.[166]
In an interview with GQ magazine, published April 8, Ke Huy Quan explicitly stated that he was not in the film after being asked if he was interested in playing Short Round again.[167] Six days later, Mikkelsen told The Hollywood Reporter that the film would recapture the "dense and epic" essence from the franchise's early films, namely Raiders of the Lost Ark and Indiana Jones and the Temple of Doom.[168] Ten days later, on April 24, when asked if there was an approximate date for the release of the Indiana Jones 5 trailer on Twitter, Mangold reassured them that movie studios traditionally release "some sort" of teaser in the winter ahead of the theatrical debut of pictures scheduled for the following summer, potentially hinting at when the world will see footage.[169]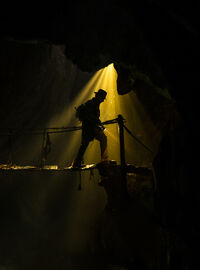 On May 26, the first day of Star Wars Celebration Anaheim, Lucasfilm and Disney social feeds released the first look at the film with an image of Indiana Jones in silhouette, while Harrison Ford debuted the image at the event itself during a surprise appearance to congratulate John Williams for his 90th birthday.[170][171][172] Two days later, cinematographer Ian Seabrook, a specialist in underwater filming, told his Instagram followers that he had collaborated on Indiana Jones 5.[173]
Sequels
[
]
Speaking with The Hollywood Reporter in an interview published on June 22, 2016, Disney CEO Bob Iger confirmed that while Indiana Jones 5 is not intended as the final big-screen outing for the Indiana Jones character, it will be followed by "a reboot of some sort".[174]
During the 2020 Disney Investor Day on December 10, Lucasfilm Ltd. present Kathleen Kennedy introduced the film as the "next and final installment".[134] Official channels reporting on the event, however, have not referred to it as such.[175][176]
In a 2022 Vanity Fair interview, while considering in retrospect whether or not recasting Han Solo, another character popularized by Harrison Ford, for Solo: A Star Wars Story had been an error, Kennedy remarked that "We would never make Indiana Jones without Harrison Ford."[177]
Merchandise
[
]
On January 26, 2022, toy and games manufacturer Hasbro announced that they had established a new licensing agreement with long-time business partner Lucasfilm Ltd. for Indiana Jones products to release around the 2023 theatrical debut of Indiana Jones 5, fulfilling a similar position they had held for 2008's Indiana Jones and the Kingdom of the Crystal Skull.[178]
On May 25, although imagery from the film itself was absent, the World of Disney store at Disneyland was stocked with shirts representing the five Indiana Jones movies.[179]
Notes and references
[
]
External links
[
]