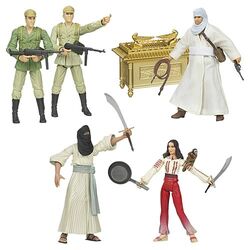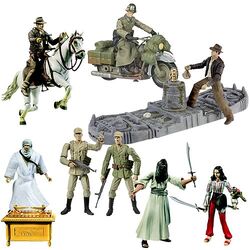 In 2008, Hasbro released a line of Indiana Jones Deluxe Action Figures. These figures included accessories.
Wave 1:
Wave 2:
Indiana Jones with Horse
Indiana Jones with Trap
Indiana Jones with Spiked Pit Trap
Wave 2, Revision 1:
Indiana Jones with Horse
German with Motorcycle
Indiana Jones with Trap
German Soldier 2-pack
Indiana Jones with the Ark
Marion Ravenwood with a Cairo henchman and a monkey
Cario Thugs
Mutt Williams with Motorcycle.
There were also multipack sets that were exclusive to Target and Walmart stores as labeled on the boxes.
Cairo ambush set
Jungle chase
DVD Commemorative set (Wal Mart)
DVD Commemorative set 2 (Wal mart)
Tank showdown set.
Community content is available under
CC-BY-SA
unless otherwise noted.