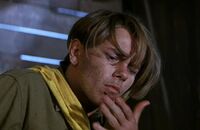 "The subject of this article was cancelled."
This article covers a film, book, comic or game that was cancelled or replaced by another product. Cancelled material is usually not
canon
; however, aspects of such material sometimes find their way into later products and thus become canon. You have been warned.
Indiana Jones and the Iron Phoenix was a shelved follow-up to Indiana Jones and the Fate of Atlantis.
Set in 1947, the story saw a group of ex-Nazis hiding in Bolivia led by German Doctor Matthias Jäger attempting to resurrect former Nazi leader Adolf Hitler from his ashes in the aftermath of World War II, and so Indiana Jones and Soviet Major Nadia Kirov are forced to join forces in order to defeat them.
Development for the game started as early in 1993. The game's original title was Indiana Jones and the Philosopher's Stone, but Mike Stemmle suggested a change to reference the Nazis' Iron Cross.[1] The character design was based on the animation style of Batman: The Animated Series.[2]
The production team, which included project leader Joe Pinney, background artist William Stoneham and lead animator Anson Jew, was fifteen months into production when they found out at ECTS, the European Computer Trade Show, that depictions of post-war revivals of Nazis were illegal in Germany. As LucasArts wouldn't be able to recuperate the loss from not selling the game there, the game was shelved.
Its plot did, however, form the basis for the Indiana Jones and the Iron Phoenix comic produced by Dark Horse and as such, LucasArts is thanked in the books' credits. According to Aric Wilmunder, only the first three issues of the comic book were based on his designs for the game, while the fourth and final issue involving the failed Nazi resurrection was completely altered.[3]
Notes and references
[
]
External links
[
]