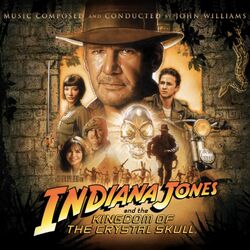 As with the previous three movies, John Williams provides the score for Indiana Jones and the Kingdom of the Crystal Skull. The soundtrack was released on CD by Concord Records on May 20, 2008. The liner notes include a letter from Steven Spielberg.
As with many soundtrack albums of Williams' scores for Lucas and Spielberg productions (though unlike most Indiana Jones soundtracks), this album includes a number of concert suites containing straightforward presentations of the score's key themes, recorded specifically for the soundtrack and not heard in these versions in the score proper. These concert suites open the album with the first four tracks.
Aside from "The Raiders March," the film's score incorporates multiple themes from previous installments, and several moments utilizing these themes are represented on the soundtrack album. Also notable is "The Journey to Akator," which begins as a typical dramatic underscore track but shifts to source music heard in the Nazca street scene as Indy and Mutt arrive in Peru.
The tracks in chronological order (according to the movie) would go 6, 8, 7, 15, 12, 14, 11, 9, 5, 10, 16, 13, 17, 18 and 19. 2, 3, and 4 are just bonus tracks heard in concert theme, whereas 1 is just The Raiders March from Raiders of the Lost Ark
Track listing
Edit
The Snake Pit
The Spell of the Skull
The Journey to Akator
A Whirl Through Academe
"Return"
Orellana's Cradle
Grave Robbers
Hidden Treasure and the City of Gold
Secret Doors and Scorpions
Oxley's Dilemma
Ants!
Temple Ruins and the Secret Revealed
The Departure
Finale
External links
Edit