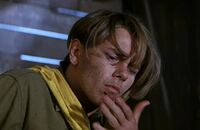 "The subject of this article was cancelled."
This article covers a film, book, comic or game that was cancelled or replaced by another product. Cancelled material is usually not
canon
; however, aspects of such material sometimes find their way into later products and thus become canon. You have been warned.
Indiana Jones and the Lost Expedition was a proposed theme attraction complex which was originally designed by Disneyland in the late 1980s to be part of the Adventureland theme land.[1]
Following the success of Raiders of the Lost Ark and Indiana Jones and the Temple of Doom, Disney approached George Lucas, who had previously collaborated with them to create 1986's Captain EO and 1987's Star Tours, to help Disney Imagineering to create an attraction based on the Indiana Jones films. The huge complex would have contained two huge rides centered around a crumbling "River Temple", which was to be perched on the edge of the waters of the Jungle Cruise.[2]
From all the planned attractions of the complex, only two of them were known: "Ore Car Attraction" and "Jeep Attraction". The first would have been a roller coaster which would have recreated the mine chase sequence of Indiana Jones and the Temple of Doom with rusted mine carts whiz along volcanic chasms. The second was to be a dark ride which would have recreated other famous exploits of Indiana Jones, such as his escape from the giant rock boulder of Raiders of the Lost Ark.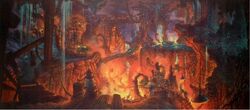 Additionally, the Jungle Cruise ride would have been re-routed and re-themed through the attraction miniland's massive show building, skimming along the themed lava waters of "Ore Car's Attraction"'s volcanic chasm for a peak of the attraction's interior before exiting through a rocky gorge. Meanwhile, the Disneyland Railroad that circumvents the park would have chugged across a wooden bridge through the complex on its circuit around the whole park.[1]
Despite all these plans, Indiana Jones and the Lost Expedition ultimately went unbuilt as it was competing for development against Splash Mountain, a project that was being worked on at the same time. The then-CEO Michael Eisner elected to go ahead with Splash Mountain due its lower cost of building and cancelled plans for the Lost Expedition complex.[3]
Notes and references
Edit
Community content is available under
CC-BY-SA
unless otherwise noted.