"Ireland's always needed her martyrs. A blood sacrifice, that's what they're offering."
"Ireland, April 1916" is the eighteenth episode of The Young Indiana Jones Chronicles and the twelfth episode in season two. The episode originally aired on ABC on June 12, 1993. For home video, it was paired up with "London, May 1916" to become Love's Sweet Song.
Professor Jones is absentmindedly vacuuming a living room rug because he is engrossed by a soap opera on television as his daughter tells him it's time to leave for the Grandparents' Tea at Lucy's school, but Indy protests that he'll miss "the exciting part" of "his" episode and he needs to find out if Ralph is Mara's lover or her twin brother in disguise. His daughter asks how he can watch such "trash" and he counters that it's pure theatre, though she still thinks it isn't real life. Indy is surprised that she believes life isn't theatre and begins to tell her how he learned otherwise in Ireland when he and his friend Remy were on their way to London to join the Belgian Army.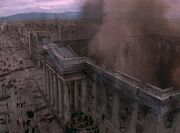 Disembarking at the port of Queenstown, Indiana Jones and Remy Baudouin hitchhike through the countryside to Dublin, where they find work in a pub so they can earn enough to buy passage to London. At the pub, Indy meets playwright Seán O'Casey, who shows him Irish theatre and speaks of a socialist revolution for Ireland. Jones pursues the affections of Maggie Lemass, but cannot understand the Fenian politics of her brother Seán Lemass. After witnessing the Easter Rising firsthand and seeing Seán imprisoned, Indy and Remy leave for London to enlist in the war.
"A terrible beauty is born," Indy quotes from "Easter, 1916," the poem Yeats wrote about the Easter Rebellion. He reflects on the ultimate fates of Lemass and O'Casey along with Ireland itself until his daughter suddenly notices they're late and need to go. Indy asks about his show and she points out that it finished ages ago, much to his frustration, so he questions why she didn't stop him. "No one's ever been able to do that," she replies as the two head out the door.
Principal photography for the episode took place primarily from September 1 to September 23, 1992,[1] with location filming in Dublin, Ireland, along with additional location filming in Liverpool and Medway, England.[2]
"Ireland, April 1916" was first broadcast on June 12, 1993.
This episode was edited into Love's Sweet Song in 1996, which was not released on VHS but came out on DVD in 2007 (as part of The Adventures of Young Indiana Jones: Volume One, The Early Years).
"Ireland, April 1916" was only adapted in one format as The Irish Rebellion by Richard Brightfield (with illustrations by Frank Bolle and cover art by George Tsui), the eighth and final gamebook in the Choose Your Own Adventure series based on The Young Indiana Jones Chronicles from Bantam Books, released in November 1993.
Selected tracks by composer Laurence Rosenthal were included on the official soundtrack The Young Indiana Jones Chronicles, Volume Four, released in March 1994, as conducted by Rosenthal and performed by the Munich Symphony Orchestra.[4] Rosenthal's two-disc promotional compilation Music for Television also includes the tracks "Fight in the Bakery" and "The Voice of Ireland" from this episode,[5] and he offered "Fight in the Bakery" as a sample on his personal website.[6]
Composer Laurence Rosenthal won a Primetime Emmy Award in 1994 for Outstanding Individual Achievement in Music Composition for a Series (Dramatic Underscore) for his work on "Ireland, April 1916."[7]
A brief clip from this episode could later be seen in the feature film Wonder Boys.
Community content is available under
CC-BY-SA
unless otherwise noted.