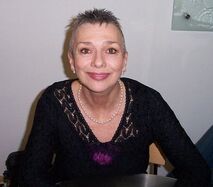 Jacqueline Pearce (December 20, 1943 - September 3, 2018) was a British film and television actress born in Woking, Surrey, England. She played Annabelle Levi in The Young Indiana Jones Chronicles.
Pearce starred in many films and television shows mostly of horror and comedy. She was perhaps best known for playing Servalan in Terry Nation's popular sci-fi TV show Blake's 7. She also appeared in Dark Season, Moondial and Doctor Who (including an audio drama opposite Indiana Jones and the Kingdom of the Crystal Skull actor John Hurt) in addition to guest roles in other series such as Danger Man and The Avengers. Among her feature films roles, Pearce appeared in Sky West and Crooked, the Carry On film Don't Lose Your Head, Don't Raise the Bridge, Lower the River, White Mischief, How to Get Ahead in Advertising and Princess Caraboo.
On September 13, 2018, Pearce died at her house in Lancashire, having been diagnosed with lung cancer earlier that year. She was 74.
External links
Edit
Community content is available under
CC-BY-SA
unless otherwise noted.