James Bond was a fictional spy.
In 1992, when an elderly Indiana Jones mentioned to a mail carrier that he had been a spy, the woman dismissively compared him with James Bond which prompted Jones into telling her about his undercover involvement with the Sixtus Letter in 1917.[1]
Behind the scenes
Edit
James Bond was created by British author Sir Ian Fleming and has influenced the Indiana Jones franchise in several ways. Steven Spielberg's desire to make a James Bond movie was part of the impetus that led to the creation of Raiders of the Lost Ark and the opening sequence in Indiana Jones and the Temple of Doom is a homage to the Bond film series' tradition of beginning the story with the close of another.[2]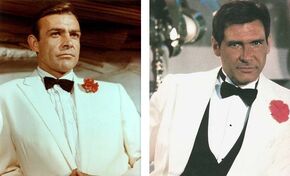 Bond was played by Sean Connery in seven films, the role which gave Spielberg the idea to cast him as Henry Jones, the father of Indiana Jones, for Indiana Jones and the Last Crusade.[2]
Daniel Craig, who had a role in The Young Indiana Jones Chronicles episode "Palestine, October 1917"/Daredevils of the Desert, has played James Bond since 2006. Jeffrey Wright, who played Sidney Bechet in "Young Indiana Jones and the Mystery of the Blues" and "Young Indiana Jones and the Scandal of 1920", also played Felix Leiter in Casino Royale and Quantum of Solace.
Additional crossover actors include Christopher Lee (Count Ottokar Graf Czernin) in The Man with the Golden Gun (1974), Julian Glover (Walter Donovan) in For Your Eyes Only (1981), Alison Doody (Dr. Elsa Schneider) and David Yip (Wu Han) in A View to a Kill (1985), John Rhys-Davies (Sallah) and Jeroen Krabbe (Brockdorff) in The Living Daylights (1987), Billy J. Mitchell (Mulbray) in GoldenEye and Michael Byrne (Vogel) and Julian Fellowes (Winston Churchill) in Tomorrow Never Dies (1997). Stunt performers who crossed over into the 007 saga include Vic Armstrong, Derek Lea, Wayne Michaels, Wendy Leech, Jim Dowdall, Peter Diamond, Terry Richards, Stuart Clark, Nick Gillard, Simon Crane, Gary Powell, Martin Grace and Richard Graydon.
Sidney Reilly, the British "Ace of Spies", has been cited as an inspiration for James Bond.[3] Indiana Jones was to meet and work with Reilly in the unproduced "Moscow, July 1919" episode of The Young Indiana Jones Chronicles.[4]
Appearances
Edit
Notes and references
Edit
External links
Edit