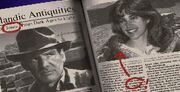 The Jastro Expedition was an archaeological dig in Iceland led by Dr. Jastro in November 1929. It was sponsored by Barnett College.[1]
The dig was Indiana Jones' first "real job" working as a field supervisor; it was there he met Sophia Hapgood, with whom he worked closely for three months, at one point even sharing the same blanket.[1]
After Iceland, the team moved to the Azores.
Many mysterious artifacts were unearthed by Jastro and his team that featured a running spiral motif. These included a Horned Idol dated at 1500 BC, and Nur-Ab-Sal's necklace. Several of these artifacts were pilfered by Sophia for her private collection, who correctly assumed that they were Atlantean. Jastro too hid some pieces for himself, in a cave near Horta, Azores.[1]
Items that made it to the Barnett, were still being stored even ten years later.
Appearances
[
]
Sources
[
]
Notes and references
[
]