"Oh, that's just my pet snake, Reggie."
―Jock Lindsey
Jock Lindsey was an American freelance pilot. He was frequently hired by Indiana Jones to fly the archaeologist to remote parts of the world. Easygoing and affable, Lindsey notably butted heads with Jones on one subject: his pet snake, Reggie.
An American, Jock Lindsey cut his teeth as a stunt pilot performing in Midwest US airshows and aerial demonstrations.[1] In 1925, he performed in Bessie Coleman's Flying Circus. Jock also won the Mid-West Races & Stunt Show on February 9, 1929 and went on to claim victory in the National Air Races held in Cleveland, Ohio later that same year.[3]
By 1931, Jock had assembled a group of stunt pilots to form the Air Pirates Circus. In 1931, Jock Lindsey and the Air Pirates received that year's annual stunt-show honors from the Chicago Aviators & Aviatrices Flying Club.[3] However, Jock eventually relocated to Venezuela, which was rumored to be after a flight-related tragedy. Jock enjoyed flying the less-frequented skies of South America and did many of his travels above the continent and Central America, transporting American businessmen in search of oil, surveyors charting new settlements and even explorers.[1]
During his travels, he established a few good contacts at the airfields he visited.[1] A regular customer of Jock's became archaeologist Indiana Jones who he occasionally aided in his adventures. In 1934, Lindsey flew Jones to South America to search for the Calendar of the Sun after the archaeologist was stranded in Havana.[4] The year also had Jock involved with the MacRobertson Trophy Air Race of Australia in some capacity.[3] By 1935,[5] Jock frequented a nightclub in Shanghai run by gangsters. In his exploits around the bar he became familiar with star performer Willie Scott but got robbed by a local pickpocket.[3]
In June 1936, Lindsey flew Jones and Marcus Brody to Tibet, in search of Francis Beresford-Hope and his piece of the key to an underground Siberian tomb. While Jones and Brody went to Beresford-Hope's hermitage, Lindsey stayed in the valley with his plane, OB1. Lindsey was relaxing peacefully in the cockpit when he heard Jones yelling to start the plane - Jones, Brody, and Alex Beresford-Hope were running to the plane, being chased by local bandits. Lindsey started taxiing the plane, while the three boarded, accompanied by one of the bandits. As the plane started to take off, the engines died, and the plane fell off of a cliff. Luckily, Lindsey was able to restart the engines and avoid crashing.[6]
After the bandit was kicked out of the plane with a parachute, Lindsey flew the three men to Shanghai.[6]

In the July of that same year, Lindsey took Indiana Jones to Peru in his biplane OB-CPO, where the archaeologist retrieved (and immediately lost) the golden Chachapoyan Fertility Idol before demanding a hurried retreat. While Jones was escaping from the Hovitos, Lindsey relaxed by trying to fish from the pontoon of his seaplane. Jones' arrival necessitated a hasty departure, and the fishing rod was lost. While the flight out was uneventful for Lindsey, Jones was aghast at having to share the front seat with Reggie, Jock's pet snake.[2]
Following this adventure, Jock travelled to a bar in Nepal for a nightcap but Jones called on him to track down the location of the idol in Marrakesh,[3] where he believed his rival Belloq had offloaded it.[2]
After Jones completed some work for the US government,[2] he hired Lindsey in order to get an aerial view of some ruins in the Aleutian Islands. However, the surrounding waters were being patrolled by a Japanese cruiser whose crew didn't appreciate the sudden appearance of an American-registered aircraft taking pictures so sent their own plane to intercept when their warnings went unheeded. Although outgunned by the Japanese craft, Jock's unarmed seaplane escaped the dogfight thanks to a combination of his piloting skills and Jones finding a way to take out enemy plane's struts with their craft's anchor line.[7]
At some time prior to 1938, Jock Lindsey's "Air Tours" was established while the year itself saw Jock and his Air Pirates perform in Bigelow's Air Circus at the Chaplin Airfield of Los Angeles, California.[3] Around that time, Jock also travelled to the Jungle Navigation Co. Ltd. Skipper Canteen where he accidentally misplaced his toolbox.[8]
In October, Lindsey took Jones over Florida to help the archaeologist in his hunt for the location of the Fountain of Youth which allowed Jock to make frequent stops at tourist destinations across Florida. In one incident, the plane almost crashed into Lake Okeechobee. On October 17, Jock was forced to make a crash-landing in the small town of Disney Springs which caught Jock's eye. Ultimately, the mission itself to locate the Fountain of Youth was a failure which the adventurers eventually aborted.[3]
Jock and the Air Pirates once again performed in Bigelow's Air Circus the following year; this time alongside aviators Cliff Secord and Pancho Barnes. Jock and Pancho had a good friendship with Jock having been a patron of her establishment, the Happy Bottom Riding Club, in the Antelope Valley of the Mojave Desert in California. Jock named his favorite beverage from the club "Pancho's Margherita", a drink for which he received the recipe.[3]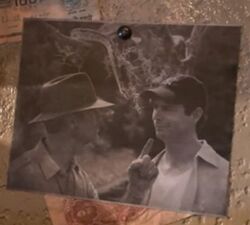 In 1940, Jock began testing a variety of aircraft by flying to dining locations across the world including le Lapin Agile in Paris, France, the Bar Pilota in Venice, Italy, and the Café Noir in Brussels, Belgium. Ultimately, however, he fell back on the capabilities of the G-CFO.[3]
Three years later, in September, Jock took the OB-1 for a vacation along the Nile River of Africa. The pilot went on a fishing expedition but also took the time to hunt crocodiles. In October, an encounter with an indigenous tribe resulted in a variety of blow-darts damaging his plane, and Jock also took part in a Savannah Safari and was also taken to see the backside of Schweitzer Falls by a strange riverboat skipper.[3]
In the early years post-World War II, another misadventure with Jones had Jock considering retirement from such a lifestyle.[3]
On August 30, 1946, Jock performed in the National Air Races and brought Reggie along for the ride. Two years later, Jock began looking for a place where he and Reggie could settle down. To accomodate his pet snake's needs, Jock decided that Florida would be an ideal place to make their home which led to Jock returning to Disney Springs where he had an airplane hangar constructed along the waterside property at 1138 Seaten Avenue.[3]
At some point, Jock had become a member of the Society of Explorers and Adventurers and hosted members of the group at his hangar. Jock also made close ties with a S.E.A. splinter-faction known as the Adventurers Club.[3]
Around the mid-1950s, Jock went out on an ocean voyage as part as of an expedition which launched a diving bell to, allegedly, the seabed. Jock returned to Disney Springs with the bell but when he was interviewed by The Source Gazette reporter Joe Tankerskley, he cryptically responded that he had "Been doing work for the U.S. Navy."[3]
In 1955, Jock converted his airfield into "Jock Lindsey's Hangar Bar" with assistance from the Adventurers Club's members including Hathaway Browne, Samantha Sterling, and Otis T. Wren and hosted many different adventurers, aviators, friends of Jock and contemporaries from the Society of Explorers and Adventurers. The bar also housed paraphernalia from adventures such as a statue of the goddess Babylonia, Mola Ram's kryta depicting Indy, Short Round and Willie Scott, and mementos from the several establishments which Jock had visited including the Atomic Cafe and The South Seas Club.[9]
Jock Lindsey was a trustworthy and fairly good pilot who preferred a calm and peaceful pace of lifestyle which was part of the appeal of his relocation from the US to South America when flying there didn't promise more money than back during his days as a stunt pilot.[1]
Lindsey liked to fish and kept exotic pets, some of which he acquired simply by collecting them from out of the jungle as he worked.[1] He was particularly fond of his pet snake Reggie who he even let rest in his biplane, much to his employer Indiana Jones' annoyance.[2] Lindsey was also a fan of baseball and wore the cap of the New York Yankees, often listening to games on the radio.[1]
Jock Lindsey was portrayed by professional pilot Fred Sorenson in Raiders of the Lost Ark. Jock has the distinction of being Sorenson's sole acting credit. Following the release of Raiders, Sorenson opted to maintain a quiet life as a commercial airline pilot. However, he 'collaborated' with director Steven Spielberg again when he flew to Kauai to save Spielberg and the crew of Jurassic Park after a hurricane stranded them on the island.
In Lawrence Kasdan's screenplay drafts for the film, Jock is British, and Campbell Black's novelization further specifies him as being Scottish. However, the character's accent in the final version of the film clearly identifies him as American, with which the Raiders of the Lost Ark Sourcebook agrees.
In 2015, Jock became the subject of Jock Lindsey's Hangar Bar, an attraction in the Disney Springs district of Walt Disney World. There, Jock was elaborated to be a member of the Society of Explorers and Adventurers, a fictitious secret society originally created for Fortress Explorations in Tokyo DisneySea and later carried over into the world-bulding and backstory of other Disney Park attractions throughout the world.
The bar includes easter eggs from across the Indiana Jones franchise, potentially retconning the character into having had a presence in many adventures from different media where he was otherwise unseen. For example, the bar has the Eye of Mara illustrated over a map of India which connects Jock Lindsey to the events of Indiana Jones Adventure: Temple of the Forbidden Eye. A plane similar to the OB-CPO but with the ID C3PO is present in the Lost River Delta near the Temple of the Crystal Skull where Indiana Jones Adventure: Temple of the Crystal Skull takes place with the implication being that it is how Jones arrived there in 1931. However, the biplane has not been confirmed to be one of those utilized by Jock.
Community content is available under
CC-BY-SA
unless otherwise noted.