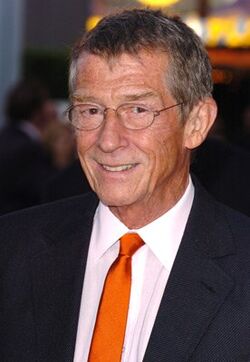 John Hurt (January 22, 1940 - January 25, 2017) was a two-time Academy Award-nominated, triple BAFTA Award- and Golden Globe-winning English actor, well known for his portrayals of Thomas W. Kane in Alien and John Merrick in The Elephant Man. He was one of England's best-known, most prolific and sought-after actors, and has had a versatile career spanning over 40 years.[1]
Hurt played the obsessed professor Harold Oxley in Indiana Jones and the Kingdom of the Crystal Skull. His other credits include Trevor 'Broom' Bruttenholm in Hellboy II: The Golden Army, the title character in Jim Henson's The StoryTeller, the Waiter in New York, I Love You (alongside co-star Shia LaBeouf), Garrick Ollivander in the Harry Potter series (which also featured Jim Broadbent), and appeared in the 2009 film 44 Inch Chest with Crystal Skull co-star Ray Winstone. In 2013, Hurt appeared in the 50th anniversary special of the BBC's long-running sci-fi series, Doctor Who, entitled The Day of the Doctor, in a starring role as the War Doctor, a hitherto-unknown incarnation of the Doctor, alongside David Tennant as the Tenth Doctor and Matt Smith (who was the then-current lead) as the Eleventh Doctor. Hurt also played the role of Sailor John in Sodor's Legend Of The Lost Treasure, one of two specials celebrating the 70th anniversary of the global multimedia franchise, Thomas & Friends, in 2015.
Hurt passed away three days after his 77th birthday.
Notes and references
[
]
External links
[
]