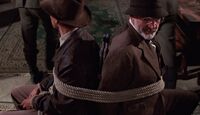 "This is intolerable!"
This article or section needs to be cleaned up to conform to a higher standard of article quality. Please follow the guidelines in the
Manual of Style
and complete this article to the highest level of quality before continuing on smaller articles. Remove this message when finished.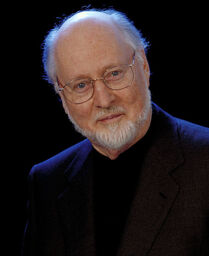 John Williams composed the music for the four Indiana Jones films as well as for many other films created by George Lucas and Steven Spielberg. He first became a major figure when he did the score for Spielberg's Jaws in 1975 and Richard Donner's Superman: The Movie.
His next breakthrough came when Star Wars: Episode IV A New Hope came out in 1977. In 1978, he scored Jaws 2, though it wasn't directed by Spielberg, who choose to work on Close Encounters of the Third Kind, which Williams scored. Then, Williams came with Star Wars: Episode V The Empire Strikes Back in 1980. That score is famous for "The Imperial March". Then, Williams scored Raiders of the Lost Ark in 1981. In 1982, his emotional Spielberg's E.T. The Extraterrestrial score was introduced. In 1983, he scored Star Wars: Episode VI Return of the Jedi.
He also went to score the films of the Star Wars prequel trilogy, which were Star Wars: Episode I The Phantom Menace, Star Wars: Episode II Attack of the Clones and Star Wars: Episode III Revenge of the Sith, which respectively came in 1999, 2002 and 2005. His career has many other highlights, too. He has collaborated with Spielberg for a long time since 1974's The Sugarland Express, Spielberg's theatrical feature directorial debut. In fact, the only major films directed by Spielberg that John Williams didn't compose the score for, have been The Color Purple, 2015's Bridge of Spies and the upcoming 2018's Ready Player One, which were composed by Quincy Jones, Thomas Newman and Alan Silvestri respectively. His most recent Spielberg project has been 2017's The Post.
Other notable film scores
Edit
Close Encounters of the Third Kind
Superman
Hook
Jurassic Park
Schindler's List
Saving Private Ryan
Harry Potter films (Years 1, 2 and 3)
Munich
Home Alone
Star Wars
External links
Edit