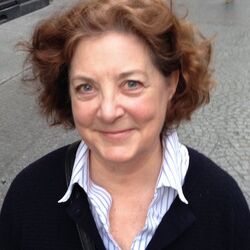 Jule Selbo (born January 11, 1954) is a writer and producer who wrote Young Indiana Jones and the Mystery of the Blues and "Florence, May 1908" (later edited into The Perils of Cupid), along with Young Indiana Jones and the Treasure of the Peacock's Eye (the second of four TV movies made for The Family Channel based on The Young Indiana Jones Chronicles) and the "Tangiers, July 1909" segment of My First Adventure.
Beyond her contributions to The Adventures of Young Indiana Jones, Selbo's additional credits include the feature film Hard Promises and the TV movies Prison Stories: Women on the Inside and Hercules and the Amazon Women, as well as episodes of The Voyage of the Mimi, Tales from the Darkside, Monsters, The Flash, Johnny Bago, Models Inc (starring Cameron Daddo), Space: Above and Beyond, The Adventures of Sinbad, Melrose Place, and Undressed. She received a "Special Thanks" credit on the feature film Your Good Friend, co-written and directed by Matthew Jacobs.
More recently, Selbo has worked primarily in animation, with credits including the direct-to-video features The Hunchback of Notre Dame II: The Secret of the Bell (with Frank Welker), Cinderella II: Dreams Come True (with Tress MacNeille, Phil Proctor, and Frank Welker), and The Little Mermaid: Ariel's Beginning (with Grey DeLisle and Kevin Michael Richardson) for The Walt Disney Company, along with the animated series Angela Anaconda, Angelina Ballerina: The Next Steps, and Pound Puppies.
Selbo has also written several books on screenwriting, including Screenplay: From Idea to Successful Script, Film Genre for the Screenwriter, and Screenplay: Building Story Through Character.
On March 11, 1995, Selbo appeared on a panel at The Museum of Television & Radio's 12th Annual Television Festival to discuss The Young Indiana Jones Chronicles together with George Lucas, Ruth de Sosa, Jonathan Hales, Rick McCallum, Joel McNeely, and Laurence Rosenthal.[1]
Community content is available under
CC-BY-SA
unless otherwise noted.