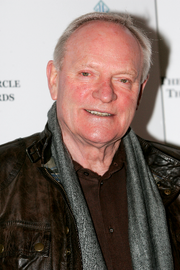 Julian Glover (born March 27, 1935) played Walter Donovan in Indiana Jones and the Last Crusade. Glover is a British actor who originally auditioned for the part of Colonel Vogel. However, he was ultimately cast as Donovan and had to adopt an American accent for the role.
He is also well known for his roles as Aristotle Kristatos in the James Bond film For Your Eyes Only and General Maximillian Veers in Star Wars Episode V: The Empire Strikes Back.
He appeared as the villain Carlos Scarlioni, in the 1979 Doctor Who serial City of Death, wherein he was an antiquities collector similar to Donovan in many respects, and who killed a scientist by aging him to death. Years later in Last Crusade his own character Donovan would die a similar death himself. He had previously appeared as King Richard in the 1965 serial The Crusade, of which only the first and third episodes survive in video form in the BBC's archives.
Glover, also, voiced the giant spider, Aragog, in the 2002 film adaptation of J.K. Rowling's book, Harry Potter and the Chamber of Secrets.
Most recently, he played Grand Maester Pycelle in Game of Thrones
Community content is available under
CC-BY-SA
unless otherwise noted.