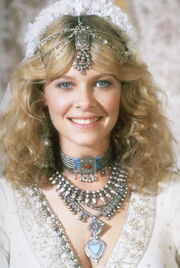 Kate Capshaw (born November 3, 1953) is an American actress best known for her role as Willie Scott in the film Indiana Jones and the Temple of Doom.
Biography
[
]
Capshaw was born in 1953 Kathleen Sue Nail in Fort Worth, Texas and moved to St. Louis, Missouri at the age of five. She graduated from Hazelwood Senior High, now called Hazelwood Central High School in 1972. She earned a degree in education from the University of Missouri–Columbia, where she was a member of Alpha Delta Pi. She taught Special Education at Southern Boone County High School in Ashland, Missouri and Rock Bridge High School in Columbia, Missouri, but later moved to New York to pursue her dream of acting, landing her first role on the soap opera Love of Life. She took the surname Capshaw upon her marriage to Robert Capshaw on January 1976; they had one child, actress Jessica Capshaw, and eventually divorced in 1980.
Career
[
]
Capshaw met film director Steven Spielberg upon winning the female lead (from a pool of 120 actresses) for the Raiders of the Lost Ark prequel, Indiana Jones and the Temple of Doom; although the film was a success, Capshaw's performance as the often shrieking heroine was widely panned and, in the opinion of many, had a very negative impact on her career and reputation, preventing her from acquiring more prestigious roles.
Personal life
[
]
Capshaw decided to convert to Judaism before marrying director Steven Spielberg on October 12, 1991.[1]
There are seven children in the Spielberg-Capshaw family:
Jessica Capshaw (1976) (daughter from Kate Capshaw's previous marriage to Robert Capshaw)
Max Samuel Spielberg (June 13, 1985) (son from Steven Spielberg's previous marriage to actress Amy Irving)
Theo (1988 - adopted by Capshaw before her marriage to Spielberg; adopted by Spielberg)
Sasha (May 14, 1990)
Sawyer (March 10, 1992),
Mikaela George (Feb 28, 1996; adopted with Spielberg)
Destry Allyn (Dec 1, 1996)
Notes and references
[
]
↑ Pogrebin, Abigail (2005). Stars of David: Prominent Jews Talk about Being Jewish. Bantam Dell Pub Group. ISBN0767916123.
External links
[
]