"Indy. Where'd you get a name like that? Your dog?"
Indiana Jones had earned, used, or been given a variety of names, nicknames, and aliases throughout his adventures. This list of aliases and nicknames sums up the various monikers held by Indiana Jones.
Nicknames
[
]
"We named the dog Indiana."
―Henry Jones, Sr.
Junior - Used by his father, even in Indy's adulthood. After discovering that he had a son in 1957, Indiana Jones jokingly referred to Henry Jones III as Junior.
Indiana - Taken from the name of his childhood dog, Indiana, often shortened to Indy. Used professionally rather than his actual name.
Stubborn West Wind (as translated from

Tiwa

) - Given by the

Pueblo

native

Jay

as a sign of his friendship with Jones.[1]
Mungo Kidogo (meaning "Little God" in Swahili) - Given by Askari soldiers after a battle in German East Africa in which Indy was shot in the chest but resumed fighting seemingly without injury. Remy Baudouin butchered the nickname, calling Indy "Mango-Gorgonzola".[2]
Jonesy - Used by Paul Robeson,[3] Sidney Bechet[4] and George McHale.[5]
Captain Dynamite, Scourge of the Kaiser - Given by Albert Schweitzer in January 1917[6]
Captain Errand Boy - Used by Indiana Jones to assert his authority over Sixtus of Bourbon-Parma when the prince, a lieutenant, said that he had taken Jones for an errand boy.[7]
Aliases
[
]
"What aren't you using your real name? What are you hiding?"
―Interrogator in a 1916 Paris police station
Henri Defense - Created by Indiana Jones when enlisting in the Belgian army, this name served as Indy's official name for his roles in the Belgian military, and later in French and American intelligence, during World War I. It was chosen from "Henry" (his real first name) and "Defense" taken from a sign in the Belgian recruiting office "Defense de fumer" (No smoking).[8]
Lieutenant Pierre Blanc - Alias used by Indiana Jones after he was captured during the Battle of the Somme. His friend Emile had stolen the uniforms of two dead French soldiers, and Blanc was the man Jones' uniform came from.[9]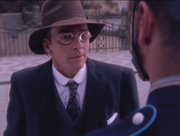 Notes and references
[
]