"Dr. Jones, what you look at?"
This article would greatly benefit from the addition of one or more new images. Please
upload
a relevant image and place it here. Once finished, this notice may be removed.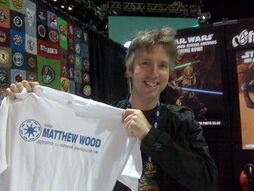 Matthew Russell Wood (born August 15, 1972) is currently the Supervising Sound Editor (2008) employed at Lucasfilm Ltd.'s Skywalker Sound in Marin County, California. He is perphaps most known for his work in the Star Wars prequel and sequel trilogies as supervising sound editor, in addition to voice General Grievous.
For the Indiana Jones franchise, Wood worked as assistant sound editor on The Young Indiana Jones Chronicles and later returned to the franchise for work on the sound database tools of the film Indiana Jones and the Kingdom of the Crystal Skull.
External links