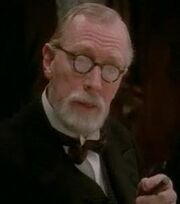 Max von Sydow (April 12, 1929 – March 8, 2020) was a Swedish actor. He played the role of Sigmund Freud in the episode "Vienna, November 1908" of The Young Indiana Jones Chronicles (later edited into The Perils of Cupid).
Von Sydow first achieved widespread recognition for his lead role in Ingmar Bergman's 1957 film The Seventh Seal, as a medieval knight during the Black Plague who plays a high-stakes game of chess with The Grim Reaper. He received his first Oscar nomination for 1987's Pelle erobreren (Pelle the Conqueror).
His other film credits include Dune, Hannah and Her Sisters, Awakenings, Intacto, Judge Dredd, Needful Things, Steven Spielberg's Minority Report and the 2011 drama Extremely Loud & Incredibly Close, for which he received his second Oscar nomination. In 2015, von Sydow appeared in Star Wars: Episode VII - The Force Awakens, alongside Daniel Craig.
On March 8, 2020, von Sydow passed away in Provence. He was 90.
External links
Edit
Community content is available under
CC-BY-SA
unless otherwise noted.