Welcome!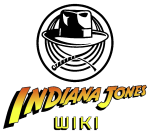 Hello, KEJ, and welcome to the Indiana Jones Wiki. Thank you for your contributions. I hope you like the place and decide to stay.
I hope you enjoy editing here! By the way, please be sure to sign your name on Talk and vote pages using four tildes (~~~~) to produce your name and the current date, or three tildes (~~~) for just your name. If you are currently contributing anonymously, consider creating an account, also be sure to verify an e-mail address at your preferences if you do. If you have any questions, see the help pages or ask me on my talk page.
If you need anything to do, please make a short page an awesome article or make an article off these links!
Again, welcome!
--Nathan Elliott (Peteparker) (Earth-1218) (talk • contribs • email) 19:21, 19 May 2008 (UTC)
Your enthusiasm is appreciated but please check out Manual_of_Style#Tense. Also, you seem to be going the long way around with the infoboxes. Just copy/paste the usage guide from the correct template, eg Template:Infobox Character and fill in what's known, leave out what isn't (but don't remove the field). :)

Vetinari

(Appointment) 21:42, March 16, 2011 (UTC)

I use that template scrollbar at the top, assuming that it automatically generated the correct format, but I guess it doesn't do exactly what it's supposed to do. As for the tense part, I guess you're referring to the rule that says that locations and other 'lasting' elements should be described in the present tense. BTW is there any particular reason for the absence of an infobox for animals? KEJ 21:51, March 16, 2011 (UTC)

Basically if it still exists, use present tense. ;) Don't think there were any animal pages at the time most of the infoboxes were made.

Vetinari

(Appointment) 22:05, March 16, 2011 (UTC)

Cheers, mate. KEJ 22:08, March 16, 2011 (UTC)

Use {{Stub}} and {{Conjecture}} templates please. They automatically categorise. ;)

Vetinari

(Appointment) 23:32, March 20, 2011 (UTC)

Thanks for the tip. KEJ 23:33, March 20, 2011 (UTC)

I don't have the game to hand. Are these LC Graphic Adventure scores actually in-game (ie Indy would hear them) or part of its soundtrack because if it's the latter they should be in Category:Real world music.

Vetinari

(Appointment) 20:12, March 21, 2011 (UTC)

They're in-game. You can ask a piano player in the zeppelin to play them. They're mentioned by title in the in-game dialogue, but the piano player refuses to play them, so you don't actually hear them. Still, I'd say, they're IU. KEJ 20:25, March 21, 2011 (UTC)
KEJ, when you're posting new Young Indy character pages, feel free to also throw in the actor's credit in the behind the scenes, since you've got the DVDs handy. Jawajames 22:35, March 25, 2011 (UTC)
Also, when listing characters by name, be sure to use the DefaultSort function at the end, so that they will appear alphabetized by last name in their different category listings... Jawajames 22:42, March 25, 2011 (UTC)

I'm planning on throwing in the actor information later, but I'll try to remember using the DefaultSort function. KEJ 08:34, March 26, 2011 (UTC)
Air balloons and Houdini
Edit
Where's the mention of the air balloon and Houdini in Trenches of Hell? Just so I know which episode of the original series references it for the page. Plus the sourcing on Houdini's page was inaccurate (Daredevils of the Desert says aeroplane which is more historically accurate but it doesn't date the event).

Vetinari

(Appointment) 02:17, March 27, 2011 (UTC)

Sadly, I relied on the Houdini entry. KEJ 23:15, March 31, 2011 (UTC)