"I get this call from my agent. Steven wants to see you. I go, Steven who? Steven Spielberg wants to see you. Okay. I drove down to his office. A true story — I said, You know, when I was 15, I worked at Lucasfilm and I filed your Raiders of the Lost Ark storyboards. I saw the entire movie [in storyboard form] and I honestly thought it was going to suck. [Laughs] And he started laughing. And I said, When I went to the Grauman's Chinese [Theater] with my parents and saw it, I went 'Oh my God, I've got to do this. [Pause] I don't know, he's always been nice to me."
―Michael Bay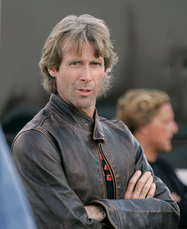 Michael Benjamin Bay (born February 17, 1965) is an American filmmaker commonly associated with directing and producing big-budget, high-concept action films characterized by fast cutting, stylistic visuals and extensive use of special effects, including frequent depictions of explosions. He was born in Los Angeles, California.
Bay worked on the Indiana Jones franchise in a minor capacity back when he had gotten his start in the film industry. As an intern of Lucasfilm Ltd., Bay filed the storyboards for Raiders of the Lost Ark. While Bay thought that the film was going to "suck", he changed his mind upon seeing the finished product at Grauman's Chinese Theatre, concluding that he wanted to become a film director. Bay would later go on to work with Steven Spielberg later on his career and told his experience to him, much to Spielberg's amusement.[1]
Bay is perhaps best known for working on films such as Armageddon, Pearl Harbor, and the live-action Transformers film series (which were produced by Spielberg and starred Shia LaBeouf). He is also the co-founder of The Institute commercial production house and the co-owner of the Platinum Dunes production house.
Notes and references
[
]
External links
[
]