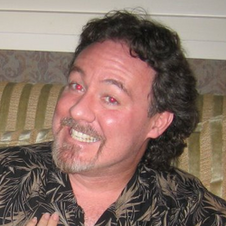 Miles Teves (born 1963) is an American artist and conceptual designer who has worked in several Hollywood films, television productions and computer games. He worked on concept art for Indiana Jones and the Kingdom of the Crystal Skull, the fourth film in the Indiana Jones series.
Teves was born in 1963 at Salinas, California. His first work had him involved in technical art for the role-playing video game Skyrealms of Jorune. After transitioning to the silver screen, he started to work on several films, like Explorers, RoboCop, The Witches of Eastwick, Total Recall, Batman & Robin, Hollow Man, Spider-Man (written by Crystal Skull writer David Koepp), Terminator 3: Rise of the Machines, Reign of Fire, Van Helsing, Pirates of the Caribbean: The Curse of the Black Pearl and The Chronicles of Riddick. His lastest films included Little Fockers and the Pirates sequel Pirates of the Caribbean: On Stranger Tides.
While working in Crystal Skull, Teves pitched the idea to have Irina Spalko's face damaged by the siafu ants during the film's climax. Though he produced three different illustrations for Spalko's injury, an idea that both Cate Blanchett and director Steven Spielberg liked, it ultimately went unused in the finished version of the film.[1]
Notes and references
Edit
External links
Edit
Community content is available under
CC-BY-SA
unless otherwise noted.