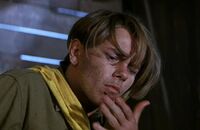 "The subject of this article was cancelled."
This article covers a film, book, comic or game that was cancelled or replaced by another product. Cancelled material is usually not
canon
; however, aspects of such material sometimes find their way into later products and thus become canon. You have been warned.
"Moscow, July 1919" was an unproduced episode of The Young Indiana Jones Chronicles, which would have been part of the third season of the series. The subject of the episode would have been political science.
Plot summary
[
]
A follow-up to the events of the episode "Petrograd, July 1917", Indy would have been working in French Intelligence in Moscow, Russia on the eve of the Allied invasion at Archangel (Arkhangelsk). Assigned to assist Sidney Reilly, who is working with counter-revolutionaries to try to destabilize the Bolsheviks from within, Indy is reunited with Rosa, whom he met in Petrograd two years earlier and is now working with Reilly. Indy and Reilly would have had dangerous encounters with the Cheka in an attempt to rescue an arrested general. However, Reilly has a secret plan unknown to the French, British and Americans to take over Moscow, but all the conspirators must flee for their lives when Vladimir Lenin is shot. Rosa ultimately helps Indy to escape.
Colonel Henri de Vertement, Rene Marchard and Leon Trotsky were also planned to be involved in the episode in some way.
Appearances
[
]
Characters
[
]
Behind the scenes
[
]
Details on The Young Indiana Jones Chronicles episode and other aborted third season storylines were revealed in a 2008 article by Pablo Hidalgo on StarWars.com. The 1919 dating is likely a typo as the Young Indiana Jones Timeline included in the piece lists the episode as taking place in 1918 which would correspond with the historical (second) assassination attempt on Lenin and the Allied North Russia intervention at Archangel in the August of that year.
Notes and references
[
]
External links
[
]