Mutt Williams's jacket was a black leather jacket owned by Mutt Williams in 1957.
When Mutt appeared at Bedford's train station on his motorcycle to look for professor Jones, he already wore his black motorcycle leather jacket together with his motorcycle cap. On the right lapel of his jacket, Mutt wore eight pins of motorcycle associations.
Mutt never went without wearing his jacket. He did not take it off for work like sweeping the cell floor in the Nazca sanatorium nor for fencing as in his duel with Irina Spalko. Only at the wedding of Indiana Jones and Marion Ravenwood, Mutt wore coat and tie. However, he had taken the leather jacket with him and when people left the church, he flicked it over his shoulder and went on his way.
Behind the scenes
Edit
The jacket was manufactured by Tony Nowak Original[1] The design was based on the Perfecto 618 motorcycle jacket introduced by Schott NYC in the early 1950s. Marlon Brando had worn a jacket of this style when he portrayed the outlaw biker Johnny in the 1953 movie The Wild One.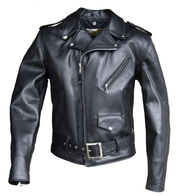 Due to its use by Marlon Brando and James Dean, the Perfecto 618 jacket had become a symbol of rebellious youth in the 1950s.[2] Since Mutt's cap' also was fashioned after a the Marlon Brando's cap in The Wild One, Mutt's arrival on his motorcycle at the train station quite resembled Brando's appearance in the movie.
Mutt's jacket is made of black smooth leather and has a red lining. It has cuff zippers and a slanted main zipper which runs diagonally from the center at the waist upwards towards the right. At its bottom, the jacket comprises a belt which has grommet holes and a rectangular buckle with mitered corners.
Two zipper-closed side pockets are slanted at an angle of about 60°, a zipper-closed breast pocket at an angle of about 50°. A flap-pocket closed by a snap fastener is arranged the right front side. The epaulettes are double stitched and rounded at their end. Above the breast pocket, the name "Mutt" is embroidered.
The pins Mutt is wearing on his jacket's lapel are:[3]
Arrangement


    1
  2   3
4   5
  6   7
    8


No.
Image
Description
1
A.M.A. American Motorcycle Association 1 year membership pin
2
New Jersey pin
3
A.M.A. 3 year membership pin
4
A.M.A. 4 year membership pin
5
N.H.S. National Honor Society pin
6
CU high school lionettes pin
7
Cub Scout Bobcat pin
8
Vintage Democratic Donkey pin
Appearances
Edit
Notes and references
Edit
External links
Edit