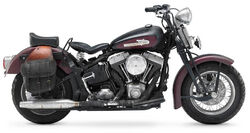 Mutt's motorcycle was an amalgamated Harley-Davidson motorcycle owned by Mutt Williams.
History
In 1957, Mutt Williams drove his motorcycle onto the Bedford train station platform to look for Professor Indiana Jones and the pair later used it to escape KGB agents across the Marshall College campus. When they flew to Nazca in Peru, Mutt took his motorcycle with him on the airplane. He hid it when he and Jones arrived at the Chauchilla Cemetery, but was forced to abandon it when they were captured by Soviets agents.
Behind the scenes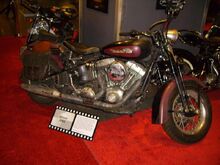 As Mutt's motorcycle, a 2006 Harley-Davidson Softail Springer Classic was used. The motorcycle had been modified by bike builder Justin Kell using original Harley accessory parts to make it look fifty years older.
In total, five motorcycles were used for the movie. In April 2009, two of these motorcycles were exhibited at the Harley-Davidson Museum in Milwaukee. One of them had been used in settings in which it was ridden by Shia LaBeouf and Harrison Ford, the other one had been used for filming stunt sequences.
Appearances
External links
Community content is available under
CC-BY-SA
unless otherwise noted.