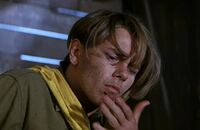 "The subject of this article was cancelled."
This article covers a film, book, comic or game that was cancelled or replaced by another product. Cancelled material is usually not
canon
; however, aspects of such material sometimes find their way into later products and thus become canon. You have been warned.
New York, July 1905 was an episode of The Young Indiana Jones Chronicles considered for production.
In this episode, while the complete storyline of the episode itself is not fully known, it can assumed from the title that the episode's story involved an adventure of a six-year-old Indiana Jones set around New York during the July of 1905.
In 2010, Laird Malamed, assistant sound editor on the series revealed details on unproduced episodes on the TheRaider.net's message board (as "lairdo") and the IndyCast rom his time with Lucasfilm Ltd.[1]
Notes and references
Edit
Community content is available under
CC-BY-SA
unless otherwise noted.